Ras Al-Khaimah- ruins of 16th-century await you
Hajar Mountains guard the most scenic emirate of UAE- Ras Al-Khaimah. A sunrise road trip from Dubai is the best way to enjoy this emirate.
Gradient blue waters filled with high adrenaline activities- this is just the perfect break you need.
Sun-baked deserts accompanied by desert activities are a must-to-go for. The pinnacle of development in Ras Al-Khaimah is the longest zipline in the world built on Jebel Jais mountains.
The Bedouin camps in the deserts of Ras Al-Khaimah will be a wonderful experience with Arabian music and rich and authentic Arabic food.
Ras al-Khaimah beaches are a hot spot for beach lovers. For those who wish to escape Dubai's hustle and bustle, ride their way to Ras Al Khaimah. The emirate surprises its visitors with high energy activities and sports. Ziplining is famed across the globe as it offers panoramic views of the Hajar mountains.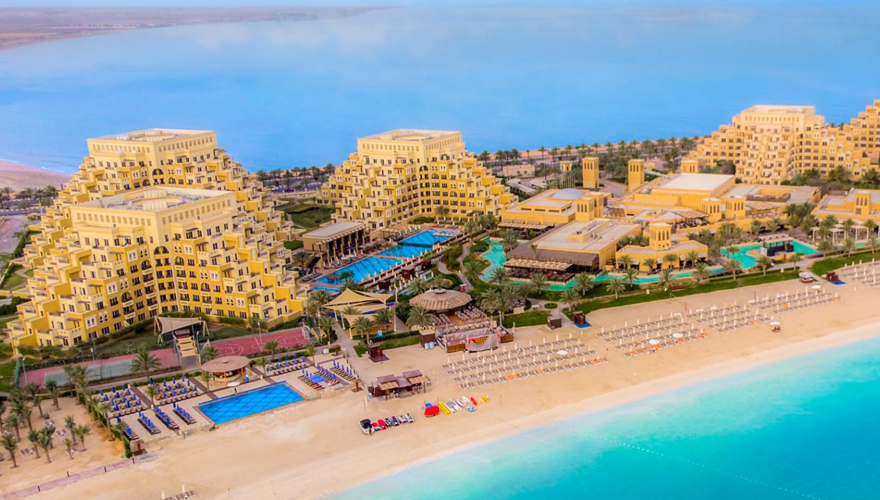 The region holds prominence for its historical excavations that prove the emirate has been inhabited since the 3rd century. The emirate offers the most beautiful sunsets in the country. Give your hiking skills a treat at Dhayan Fort. The military tower was one of the defence mechanisms in the past. If you haven't taken a road trip to the Hajar Mountains, your trip is not a trip. Climb the Jebel Jais to capture some of the most scenic panoramas of the country. Peace and serenity are widespread on this horizon. Adventurous activities are a vital part of Ras al-Khaimah tourism.
Ras al-Khaimah National Museum holds the history of the emirate. A miss to the museum will lead to an incomplete holiday. Undust the 16th-century ancient fishing village, Jazirat Al-Hamra. Soak yourself in the natural springs at Hatt Fort. The majestic structure is a living example of ancient Islamic architecture.
To explore the bygone eras of the emirate and the reasons that shaped it to what it is today, you require a visa. Apply for an online Ras al-Khaimah visa and explore the unexplored. For further queries, reach our visa experts and avail of the best services. We are available for 24x7 chat support, Skype, email and WhatsApp.