Hailing from Thailand and wish to travel to UAE? Not to worry. You require a UAE visa to visit the UAE. The best part about travelling to UAE is UAE visa is just a click away. With simple and easy steps to follow, you can apply for a Dubai visa online.
UAE introduced e-visa in 2015 and since then it has witnessed a surplus flow of visitors and tourists annually. As it eased the visa process, it also saves a lot of time. We highly recommend Insta Dubai Visa. A complete insight is available below.
I am a Thailand citizen. Do I need a visa to visit Dubai?
Yes. You require a UAE visa to visit Dubai. This process is very simple as you can apply for UAE Visa online. You don't need to apply for a separate Dubai Visa from Thailand as you get access to all emirates with Dubai visa.
What is the Dubai e-Visa?
Dubai e-Visa or Dubai online visa are the same. It is an authorized electronic document that has been processed online. You receive this visa in the form of an email. You are required to carry a printout of the email while travelling.
What are the requirements to apply for Dubai Visa online?
A valid passport ( 6 months validity is mandatory to travel)

A passport size photograph with a coloured background
What will be the validity of the stay and the number of entries with Dubai e-Visa?
Your validity of UAE e-visa will be according to the visa applied. For eg. If you have applied for a Dubai tourist e-visa for 14 days, then your stay can't exceed 14 days from the day of entering UAE. The number of entries will depend on the type of e-Visa applied.
How does UAE E-Visa look like?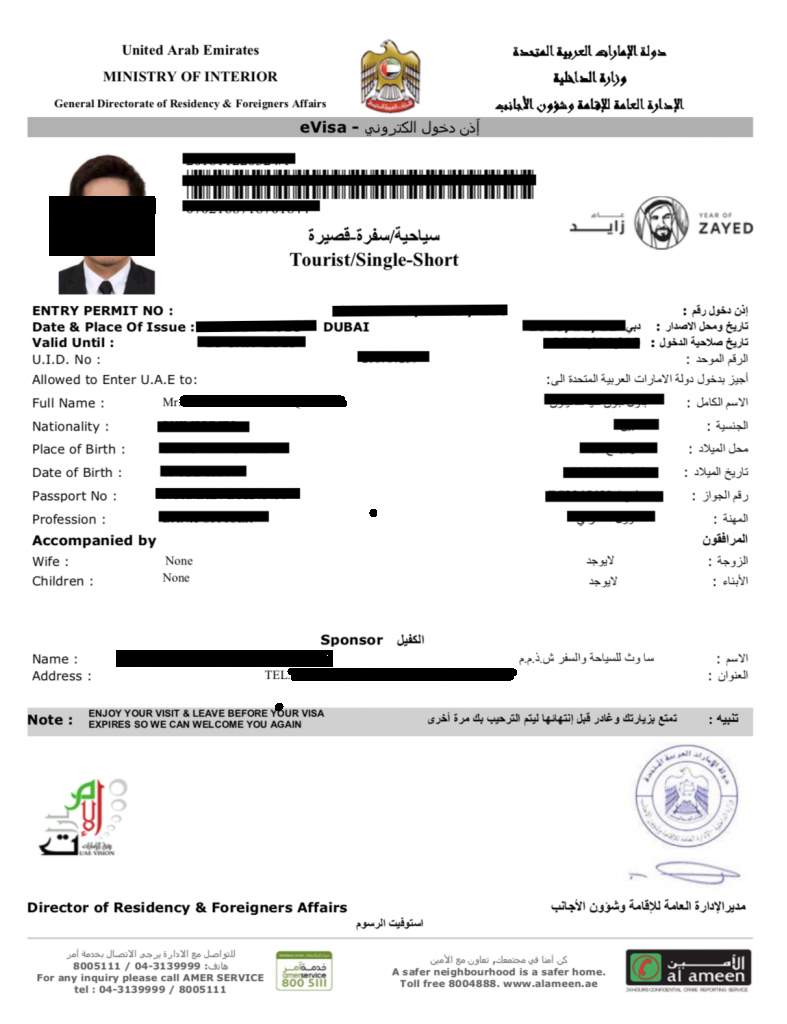 How to apply for Dubai visa online?
The easiest way to apply for Dubai visa online is possible with Insta Dubai Visa. They provide 24x7 chat support absolutely free. The online submission and processing of the visa application form and uploading of required documents are extremely short and simple at Insta Dubai Visa.
What is the processing time for UAE e-Visa?
At Insta Dubai Visa, the application processing time is 24-72 business hours.
When can I apply for a UAE e-Visa?
We recommend you to apply for your UAE e-Visa well before your travel to avoid last-minute hassles.  One you have done with your travel dates, reach us at our 24x7 chat support or just leave a message at our website www.instadubaivisa.com And we will do the rest.
How much do I pay for UAE visa?
Once you select Thailand nationality at www.instadubaivisa.com you are directed to the charges required page for Thailand citizen.  
Are there any separate travelling rules for UAE for Thai women?
Females under the age of 21 years are eligible to apply for UAE visa online only when travelling with their parents. The online UAE visa application process at Insta Dubai Visa allows you to add applicants online in a single application process. You are required to carry a print out of the e-Visa you receive in your registered email id while travelling.
I am travelling with kids. Do I require a separate visa for them for UAE?
Yes. Kids need to have their own UAE visa irrespective of their age while travelling. You need to carry a photocopy of the child's passport, a photo and their birth certificate.
What if I have more queries?
Visit FAQ's
Dubai visa for Thailand citizens is a very simple and easy process. It saves a lot of time and hassles with Insta Dubai Visa.