Dubai is set to receive international visitors from July 7 2020, the big announcement came on Sunday. The visitor should carry the most recent COVID-19 negative certificate to ensure safety and non-transmission of the virus. Or else will have to undergo the testing procedure at the Dubai Airport.
The Supreme Committee of Crisis and Disaster Management also quoted that citizens and residents will be allowed for international travels from June 23.
This came as the committee announced new protocols and conditions for citizens, residents and tourists travelling to or from Dubai airports.
These announcements will ease the plight of affected people who were stranded by overseas travel restrictions.
Directives issued by His Highness Sheikh Mohammed bin Rashid Al Maktoum, Vice-President and Prime Minister of the UAE and Ruler of Dubai, and Sheikh Hamdan bin Mohammed bin Rashid Al Maktoum, Crown Prince of Dubai have led to this announcement.
GUIDELINES
Citizens and residents allowed to travel to any country should comply with the measures taken by countries about overseas arrivals.

Passengers will be dutiful towards their actions and for being aware of the pandemic situations in the destination country. They will also monitor themselves for any symptoms.

All travellers, either residents or citizens will have to take the PCR test upon arrival at Dubai Airports.
Visitors have a choice to show their valid PCR test reports (valid for 96 hours) upon their arrival to Dubai or carry out a test at Dubai airports.

COVID-19 positive cases will be quarantined for 14 days. The cost of isolation and treatment shall be borne by the traveller.

Download the COVID-19 DXB app.

Travellers must have international health insurance coverage before travelling.

Citizens have to inform the UAE embassy if they are COVID-19 positive while they are abroad.
Residents of Dubai and citizens of UAE are permitted to travel overseas from June 23, 2020
Citizens and residents are allowed to travel to foreign countries, as per Dubai airports' flight schedules and subject to airports being operational in these countries.

PCR tests are mandatory upon arrival at Dubai airports.

Mandatory 14-day quarantine for all COVID-19 positive patients.
Guidelines for returning Dubai Residents
Pre-book your flights on the official website of airlines operating at Dubai airports.

Dubai's General Directorate of Residency and Foreigners Affairs takes care of the arrival of residents.

Returning residents can fly on any of the airlines that have approved flights to Dubai airports.

Residents sign a declaration stating their commitment to bear the costs of examination and treatment in the event of contracting COVID-19.

Arrivals must complete the Health Declaration Form before leaving their destination to ensure that they are clear of any symptoms.

All arrivals must register their details on the COVID-19 DXB app.
Guidelines while Leaving The Airport
Residents must not leave home until PCR test results are out.

Obligation to abide by 14-day quarantine for positive COVID-19 cases.

Home quarantine is possible if the directives of quarantine are met, as per official guidelines from the COVID-19 Command and Control Centre.

Positive cases will have to isolate themselves or their employer has to provide a facility if the infected is staying in a high-density residential area. The facility has to be as per the guidelines of COVID-19 Command and Control Centre guidelines or choose a quarantine facility provided by the government in return for bearing the costs involved.

Compliance with all precautionary measures applicable in Dubai (wearing masks, social distancing, and washing hands regularly)
Guidelines for returning residents testing positive for COVID-19
Strict compliance with the procedures set out for positive cases by the COVID-19 Command and Control Centre, including institutional quarantine, home quarantine, or hospitalization.
Requirements of Travel to Dubai
Fulfill Dubai entry requirements to visit the UAE.
Ensure you have medical travel insurance before traveling, in the event you do not have international coverage.
Sign a declaration to bear all costs of quarantine and treatment and complete the Health Declaration Form before departure to ensure the passenger has no COVID-19 symptoms.
Tourists are required to register all their details in the COVID-19 DXB app.

For more info, consider the below image from the Dubai media office.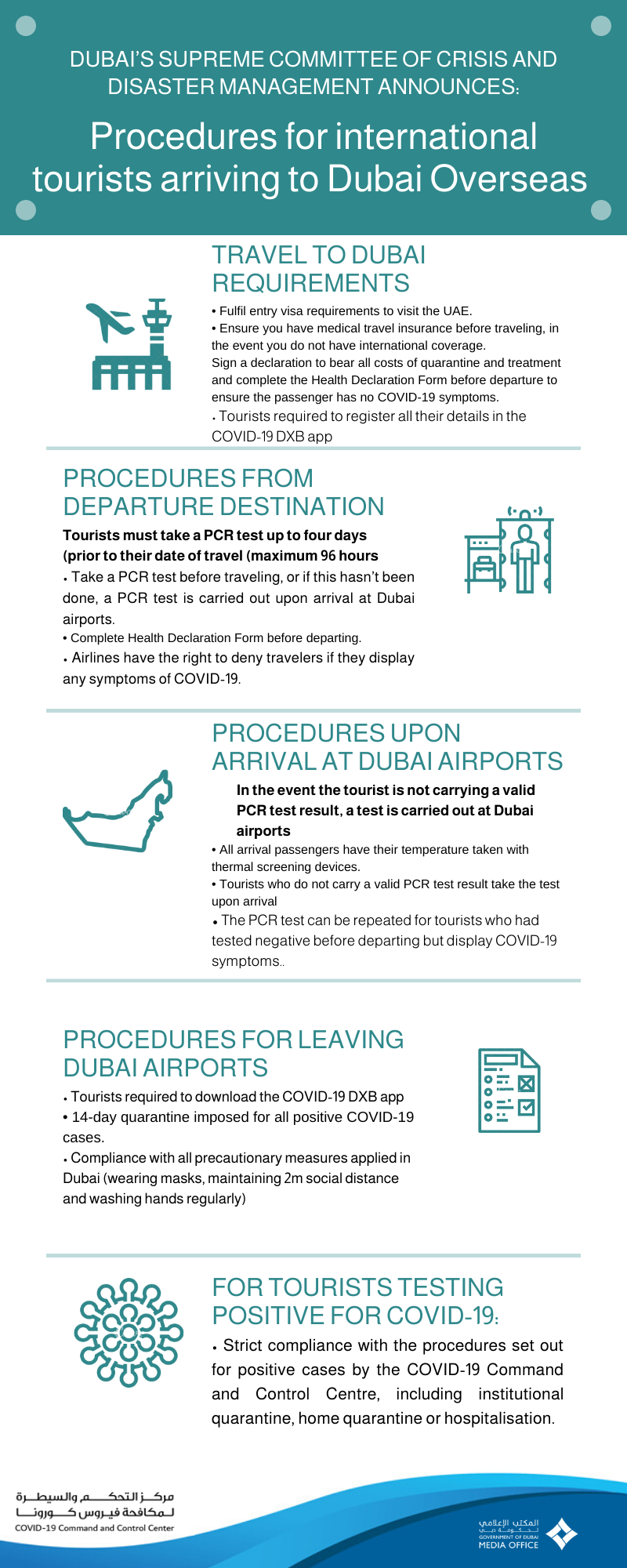 Photo Courtesy: Government of Dubai Media Office (https://www.facebook.com/DXBMediaOffice/)
Important information
Before you travel to the UAE, please check your Dubai visa entry requirements and make sure you have a valid visa if needed, or if your passport needs to be valid for a minimum period. Holders of non-standard passports and visa documents may also have different Dubai entry requirements, find out if you need to apply for a visa and other passport requirements.