From shopping to relaxing to binge on cuisines- all this makes Dubai International Airport is the most happening airport in the world. It offers absolute indulgence in activities while you transit or wait for boarding. Bygone are the days when airport lounges were boring. Today this travel hub has changed the conventional way to travel as travelling to or through Dubai is interesting and innovative. Centrally located, easy Dubai Visa processes and quick Dubai e-visa facilities have made this travel hub flood with visitors. With passengers swarming to the most loved destination, shopping, entertainment, restaurants and so much more just lets your travel be worthwhile.
I scooped out a short and easy platter for you to make your stay airport buzzing with activities and indulgence.
1. Relax at Zen Gardens
If you're done with the steel and cement boxes around you, then you should take a troll at Zen Gardens. A lush green welcome with a fish pond and waterfalls to admire will give your stay a soothing and relaxing experience. You can make yourself home at wooden benches and enjoy nature within the premises of the airport. Strategically located at T3, between gates B2 and B27, Zen Gardens is a serene experience.


2. Nap at Sleep'n'Fly pod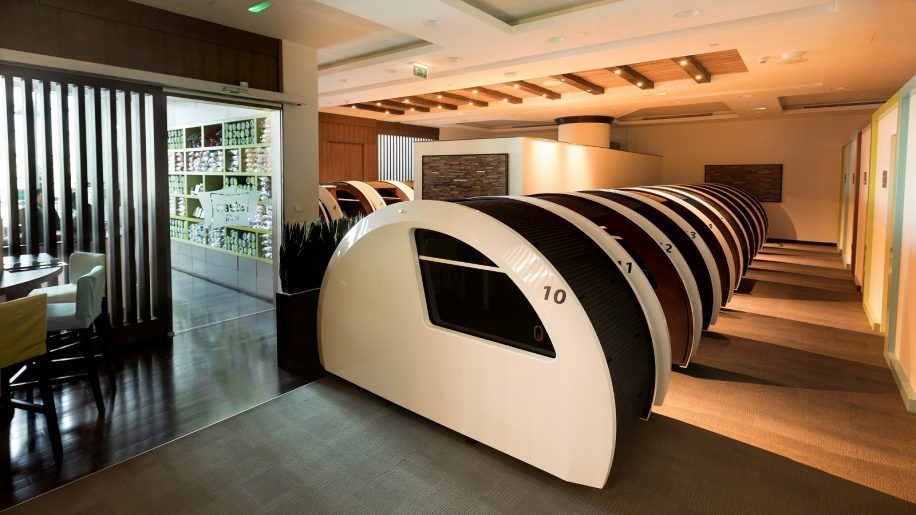 After a long flight or before a long haul flight you need to stretch yourself. You will be thankful to the innovative thinking of Dubai when you have taken your own sweet nap. A short layover or your flight is delayed or cancelled, this nap in the Sleep'n'Fly pod will make your travel easy. Sitting at T3 A gates, these pods have super comfy mattresses, disposable headrest cover, blanket, pillow and sheet. You may either book or just drop to reserve one for yourself. 
3. Duty-Free shopping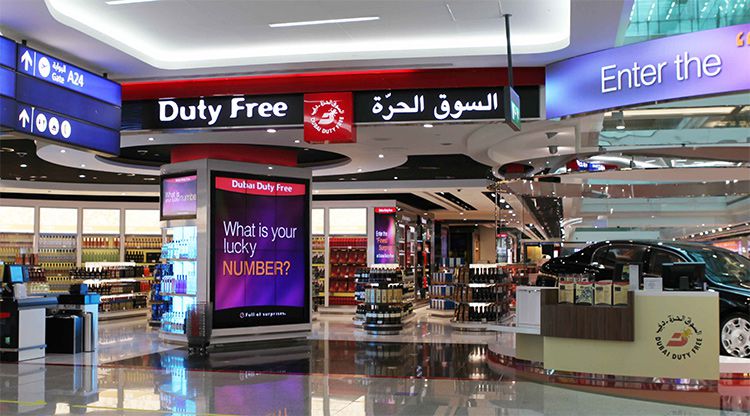 Dubai is the best destination for spoiling yourself with shopping. And when it's duty-free, it's even more infectious. Resting with a de trop of world-class brands in perfumes, gadgets, watches, and GOLD - Duty-Free shopping at Dubai International Airport is ultimate. You will swear by the designs and dazzles the jewelry displays at the airport. But for deals and good offers, Gold Souk is the perfect visit. 
4. Showers and Spas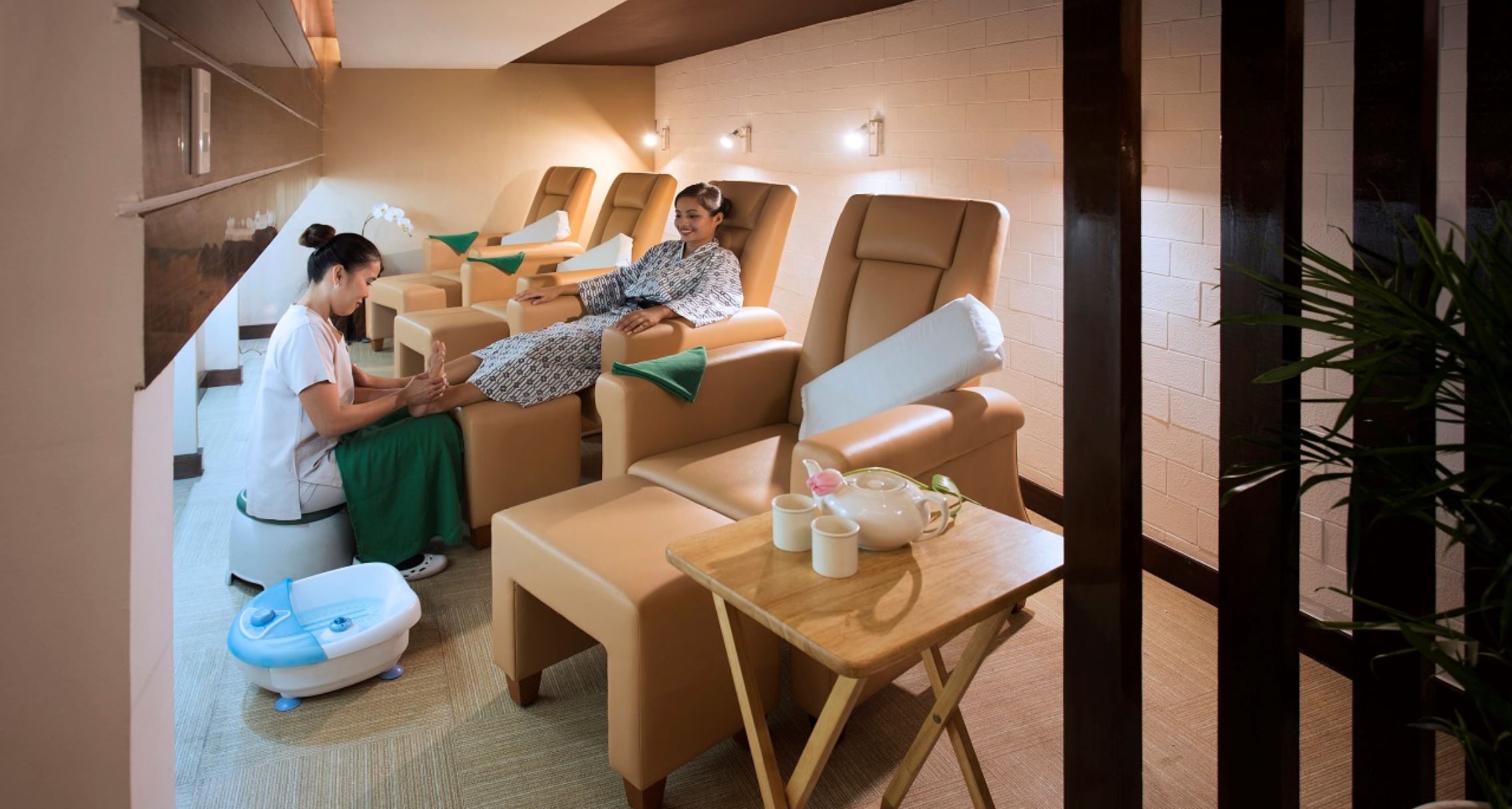 Shower yourself at Dubai Airport Terminal 3 between gates B13 and B19. If you saved your shower for the last minute or have an early flight of a short layover- don't worry. You are sorted with complimentary showers at Dubai International Airport. This travel hub also nests a wide range of Dubai Airport spas at the airport to relax and ease your travel tiredness. Xpress Spa at Departure Gate B pampers you with massages, facials, reflexology and manicures. Timeless Spa at Dubai International Airport is a luxury spa hotspot.
5. Binge at Restaurants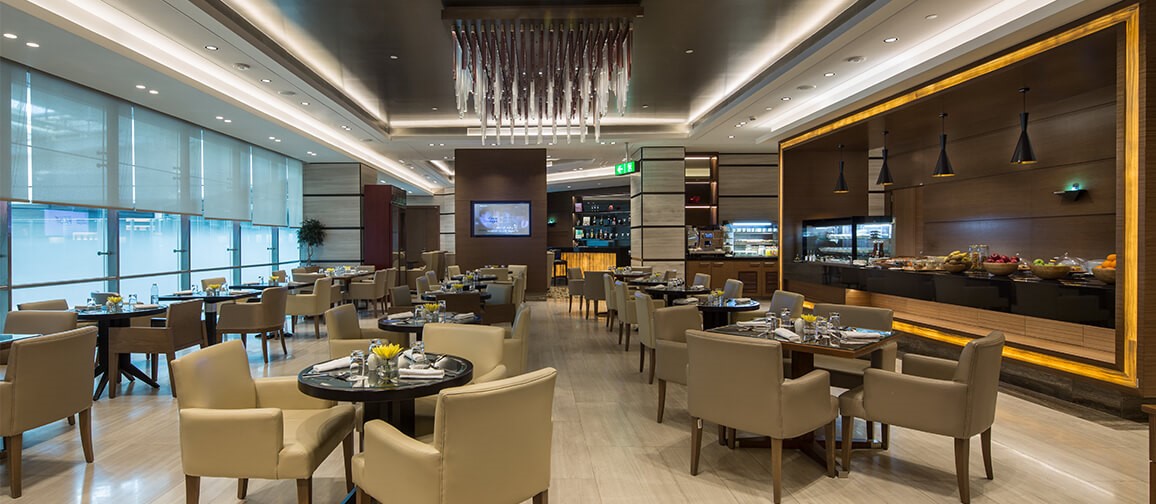 Food…Food…Food…When it comes to Dubai, it is undoubtedly a foodie's destination. At Dubai International Airport, you can sit and treat your food cravings in the most complacent ambience of world-class restaurants. If you need to grab a quick bite, you have plenty of joints to choose from. But if you are travelling Business or first class, then you will have access to the business lounges where you can relish the upmost drinks and eateries at Terminals 1,2 and 3. 
6. Update your work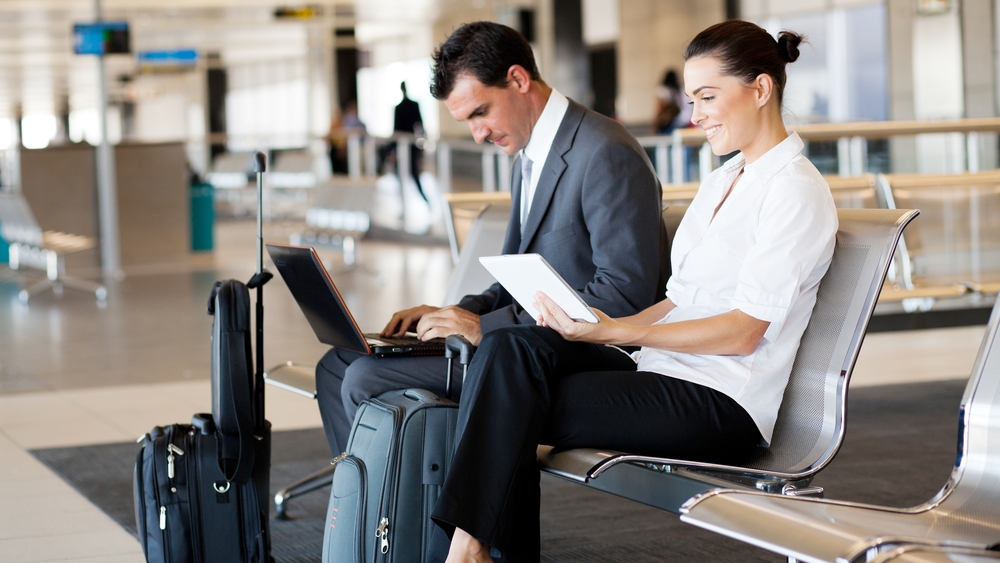 While on your business trip, you can always wrap up your pending work or pile those pending printouts at Dubai International Airport. Soundproof convention space is dedicated for all you workaholics for meetings and conferences. You can avail facilities of printouts, fax and secretarial services for your presentations. 
7. Stay at a cosy hotel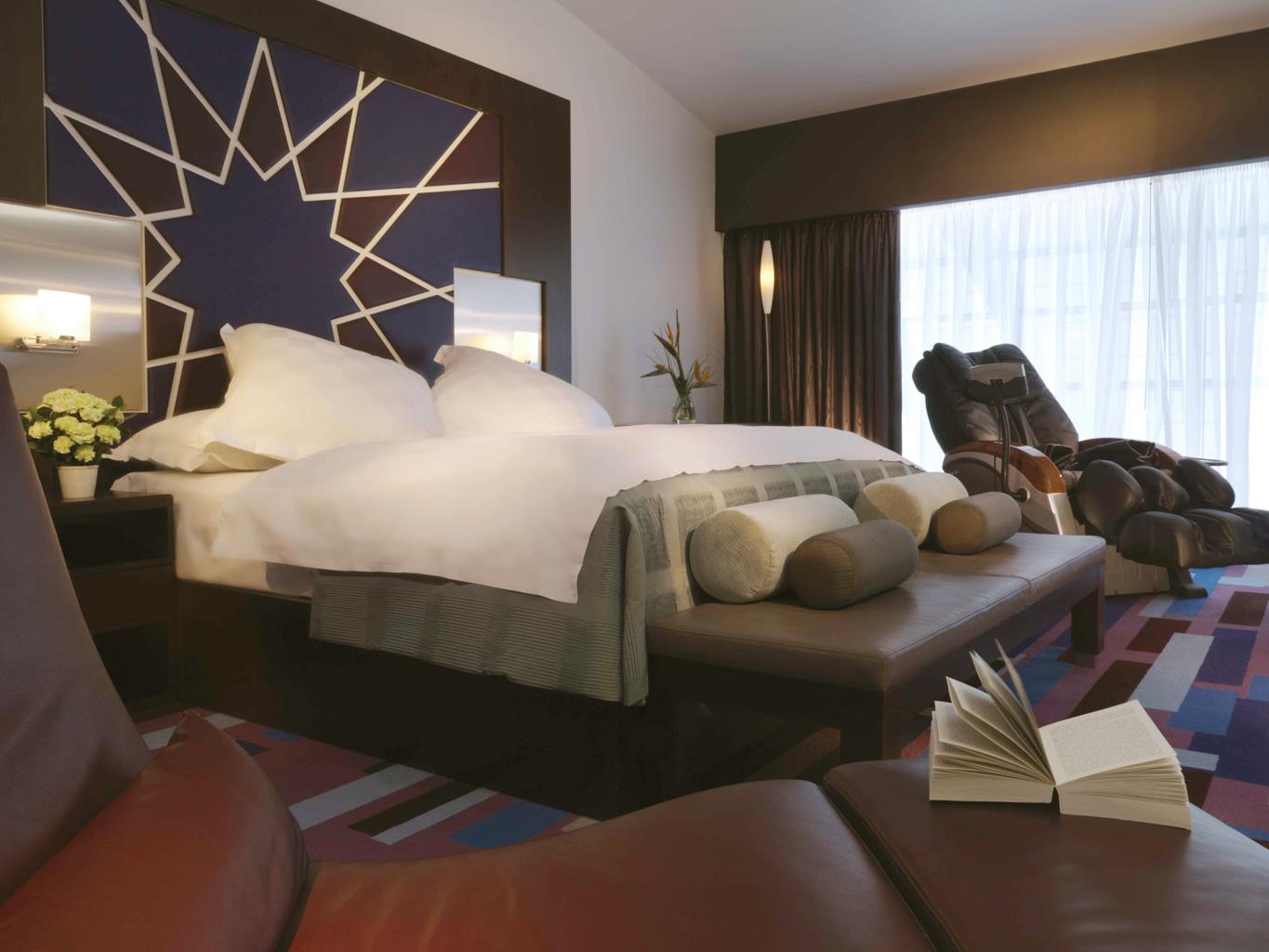 Your transit time in the airport can be quite hectic when you have several hours to board next. And if you have a long onward journey daunting you, you can also consider staying at the airport's five-star hotel. The Dubai International Hotel, with 253 rooms, pampers you with facilities such as a swimming pool, shower, gym and a dedicated spa. Room rates start from Dhs 650 onwards per night. 
Read also: 6 Topmost Luxury Hotels in Jumeirah - Dubai Hotels
8. Its play time for kids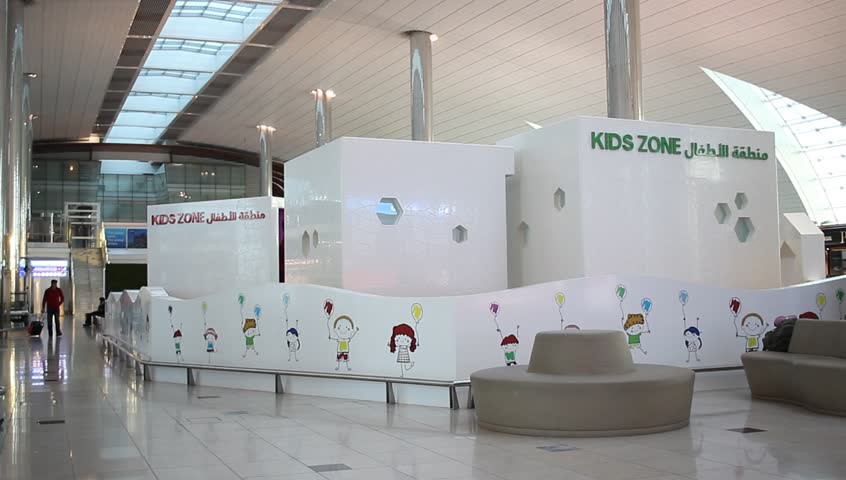 Your travel can be quite painstaking when you are travelling with kids. To keep your little tods busy, Dubai International Airport takes good care of your loved ones at Kids Play Area. Comfortably pinned at Concourse B between gates B7 and B8, this area is equipped with television, play areas and baby changing rooms. Gaming Zones will help your little ones to utilize their super energy before a long flight.
9. Sightseeing nearby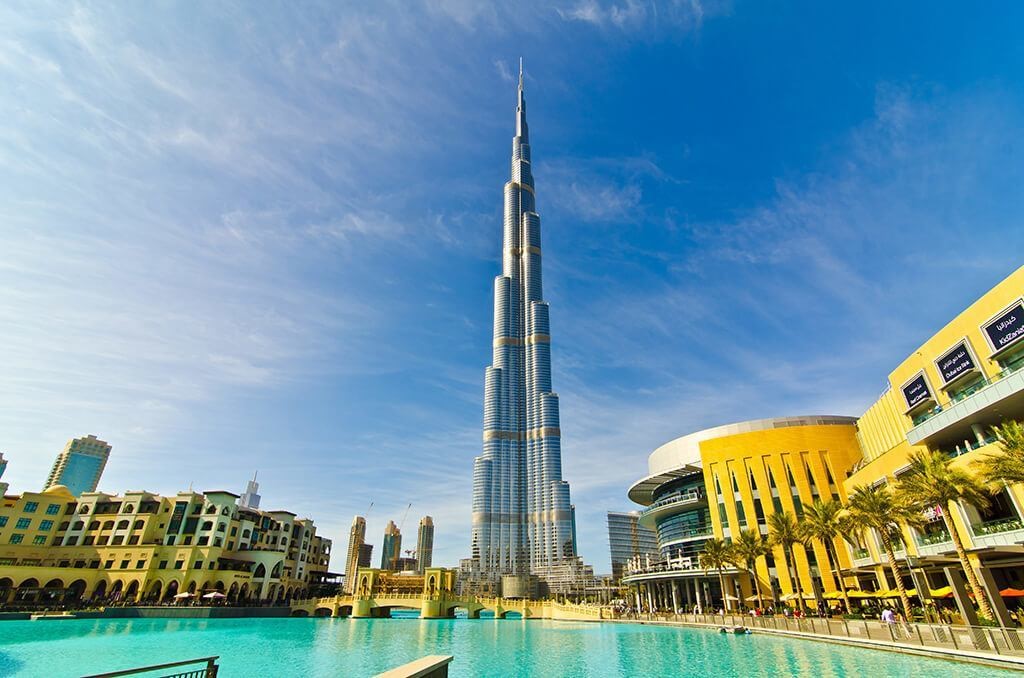 To absorb the fragrance of this cosmopolitan, Dubai offers a very good range of attractions to visit. You can take a quick city tour to catch a glimpse of white sand beaches pillared with spiking structures. You can hop on to local transport or taxis to explore the wondrous city of Dubai. You may also get in touch with tour operators at Dubai International Airport through the internet or their desks placed inside the airport. You can also get a hotel stay on Dubai transit visa just in case you wish to stay during your quick tour.
10. Bikes and Car Raffles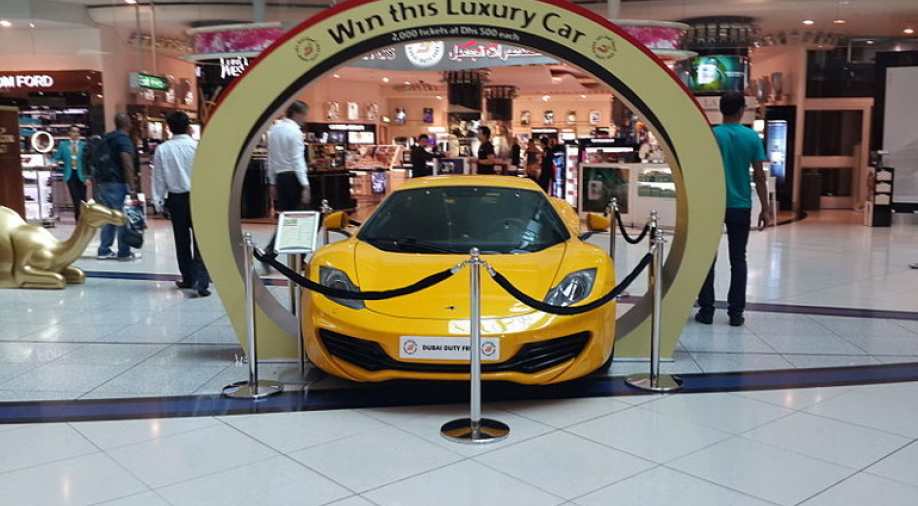 When in Dubai, one tends to absorb the maximum while travelling. Because less is more here. There is nothing that you cant indulge at Dubai International Airport. Who knows you might win a luxurious car or a sporty bike while participating in raffles. Dubai masters the art of indulgence for its visitors. So do take a jive into the bike and car raffles.
11. Currency exchange, Prayer room, Luggage storeroom and swim workout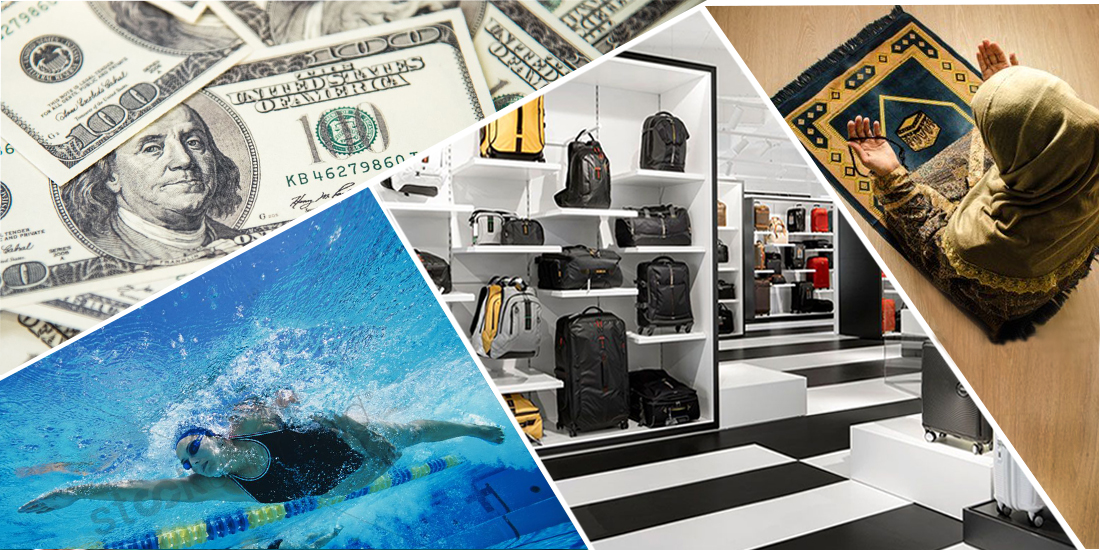 You read that right! To indulge in activities at the Dubai International Airport, you are well taken care off here. You can deposit your luggage at the luggage storeroom and move on to explore this world-famous travel hub. While travelling you may offer your prayers in the prayer room. You don't need to worry for currency exchange as there are kiosks stationed to serve you. While you prepare yourself for a flight, your workout sessions will drive you to a feel-good travelling experience.
Airport transfers at Dubai International Airport are vsightery convenient. It offers all sorts of options to suit your requirement and style. Many online portals offer exclusive airport transfers like Insta Dubai Visa. Their range stretches from budget to premium. With a fleet of well-maintained vehicles come drivers with a good amount of expertise in visitor customer handling. You save a lot of time with Insta Dubai Visa as they operate at all Dubai airports. From group bookings to exclusive luxury airport transfers, Insta Dubai Visa is sure to be your proud choice. 
Read also: Everything you need to know about UAE Visa
Travel has evolved with Dubai making an iconic mark through innovation. Travelling was never so interesting and lively until Dubai gave us mind-bending ideas to live with. 
Happy Travelling!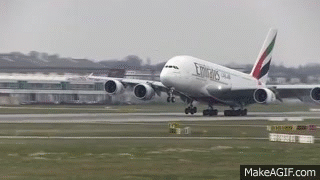 Photo source: makeagif.com