Who would have thought that once a sleepy fishing village, Dubai would emerge as one of the most sparkling cosmopolitan cities from a desert?
Dubai has a nature that of a complete entertainer. It dons with the most breathtaking attractions, the most luxurious stays, the most classy restaurants, the most unusual approach to architecture and engineering and technology. Be it, families, solo travellers, couples on honeymoon or business tycoons hustling with their trade - Dubai is available to all for all. The best part comes when Dubai caters to all sizes of pockets. Being a conservative Islamic nest, it embraces all communities showing up at their land. These reasons are big enough for the huge influx of visitors annually.
Dubai International Airport is the third busiest airport in the world. And while travelling we always wish for convenient to airport transfers for in-time tasks. The ground web of transportation is very well-knit keeping in mind the needs and convenience of the passengers. Dubai has raised enough attractions and continues to raise wonders never seen before. And to enjoy these and more your commuting within the city is extremely smooth and easy. Well connected roads and easy navigation sign boards guide you to the correct destination. Fluctuations in taxi fare are rare as they are regulated by the government.
Learn more about Travel around the World
Dubai International Airport shuttle service is extensive and well-networked. You can opt for this service outside the main exit of the airport and it facilitates pick and drop from prominent locations.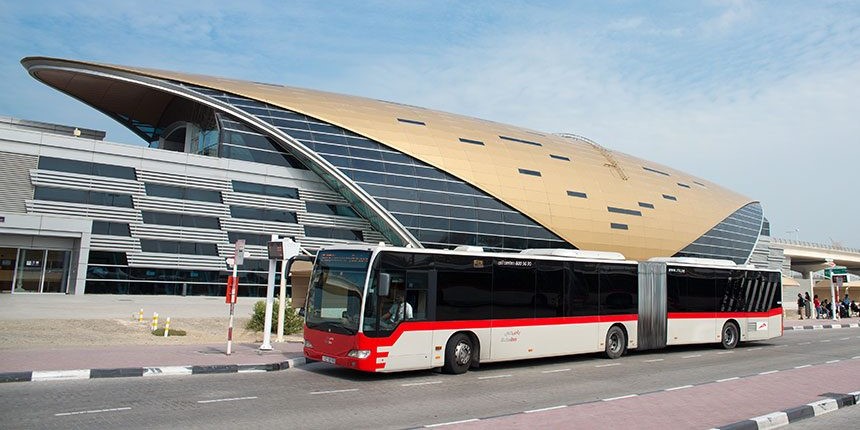 Taxis are available for booking online and on the spot too. Sometimes booking on the spot can prove expensive. So we recommend booking cabs online to avoid delays or getting into some sort of trap. Booking online lets you have an English speaking driver, saves time and better service. You can rent a cab from service providers who are highly professional too. We recommend that you check out their websites and reviews for better clarity.
In case you are looking for a reliable car rental service from any airport in Dubai/UAE, reach us.
| | |
| --- | --- |
| | Our new fleet of wheels on the road is extremely new and well equipped with the latest technology. Highly professional drivers with excellent knowledge and experience in handling passengers at your service. You can arrange Dubai airport transfer before your arrival by booking online. Our short and easy to fill in detail form has pop-menu to select from. Like this, you save a lot of time in filling details otherwise. It's easy-to-view rate window gives you a complete view. Our vehicles have enough space for luggage and easy seating with a comfortable drive. |
Benefits of booking with Insta Dubai Visa
When you require the convenience of an English speaking driver who will receive you at the arrivals area

Would walk you to the cab and assist you with your luggage.

Travelling with kids at night because public transport doesn't run at night.

Big corporates opt for cab hires as it is more convenient.

 
Order a transfer with Insta Dubai Visa when you
Go on a holiday with family.

Unaware of the local language and fear to adjust and communicate.

On a trip with large equipment

Arriving at night when local transport hike rates.

Sending your loved ones on a holiday and want to ensure they reach safe and sound.
You'll love this :Dubai Tourism - Discover The Most Loved Tourist Destination
If you are planning a trip for Dubai, you can apply for Dubai Visa online here.