Dubai is the love child of UAE. Your visit to UAE is incomplete without giving a hit to this emirate. Dubai has raised enough magnets to attract tourists. And its easy and convenient Dubai visa policy has multi-folded the visitor and immigrant flow. Dubai proudly dons its properties with luxuries at par. Jumeirah is one of the most high-profile areas of Dubai. It nests the most luxurious hotels and resorts you can ever imagine. All and each is beyond imagination. Plush private villas with private beaches, suites to suit your style and comfortable beach resorts - all are decked up with online hotel bookings and world-class services. These posh properties are created to give you a royal stay par excellence. Jumeirah's boutique hotels shine bright when it comes to the swanky blitz of Dubai hotels.
I give you 6 Top-most luxurious hotels in Jumeirah, Dubai….
1. Burj Al-Arab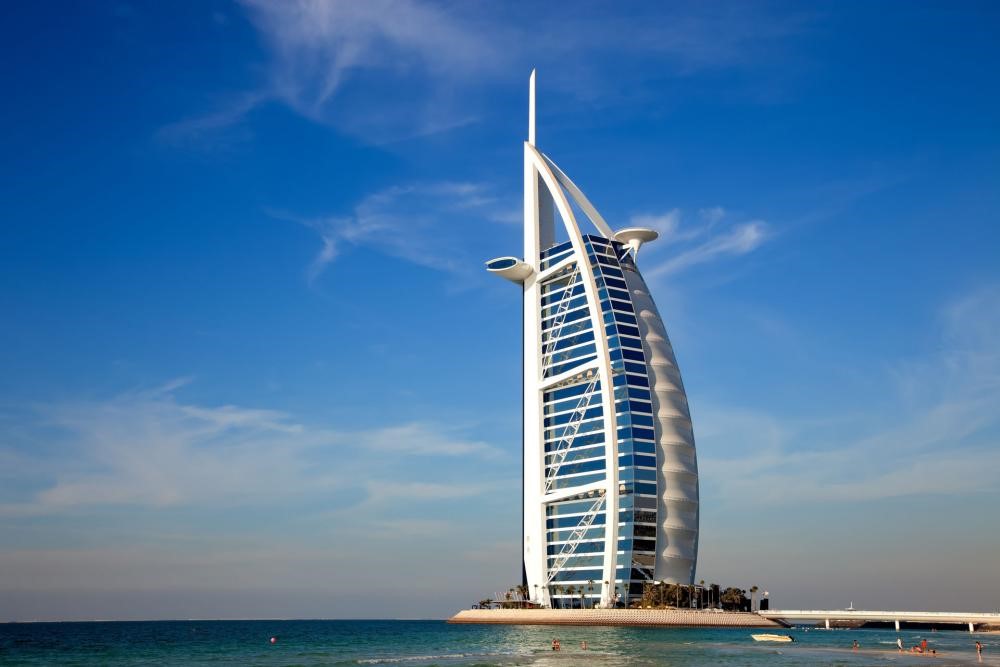 Resting with the title of Dubai icon, Burj Al-Arab stands on a man-made island. This enormous structure oozes out oodles of royalty for its guests. Treating their guest's transfer with the world's largest fleet of Rolls Royce, this lavish mansion offers umpteen services.
Ornated with gold pillars, gold elevators, private butler at every floor and private reception desk at every floor, Burj Al-Arab is worth every star it has earned. It engulfs a gradient view of its atrium. Each floor combined with its artistic work and oomph factor marble statues will give you nothing but an amazing ambience beyond class. Suites at Burj Al-Arab rest with private concierge service, private bar loaded with drinks and Arab savouries. Interior of suites has golden architecture embedded in their contemporary style. The suites have been designed to give brow-raising views of the Arabian Sea. The exterior view is a replica of a sail billowing with the wind.
Read also: A Guide to 60 Days Tourist Visa in Dubai
Burj Al-Arab has bagged many awards since its inception in 1999. Its huge array of world-class restaurants like Al Muntaha and Al Mahara promises award-winning cuisines in galaxy bathed interiors. The Skyview bar spoils you with the most picturesque views paired with their superlative menu to pamper your taste buds. The exemplary helipad cum tennis court has been a site of pride for many Hollywood movies and ambitious sports stars.
Burj Al-Arab is one of the most photographed structures of Dubai. Your umpteen Talise spa sessions and yoga classes will rejuvenate you with style and comfort at par here. It also houses a Sindbad trajectory where you kids will have a gala time with utmost care while you relax. To give you a sneak peek into a secret, Burj Al-Arab runs a Turtle Rehabilitation Project. Under this project, turtles are rescued, treated and sent back into the Arabian waters to relive their life. 
Burj Al Arab is soaked in Arab royalty to give its guests a memorable stay for a lifetime. So, be ready to burn a hole in your pocket for your most luxurious stay. You can make your possible visit by booking an afternoon tea at the Skyview Bar. All of the above will inspire you to live the Arab royalty as you hop in the 35 min Rolls Royce ride from Al Maktoum International Airport.
If you are planning a trip to Dubai, you can apply for Dubai Visa online here.
2. Jumeirah Al Qasr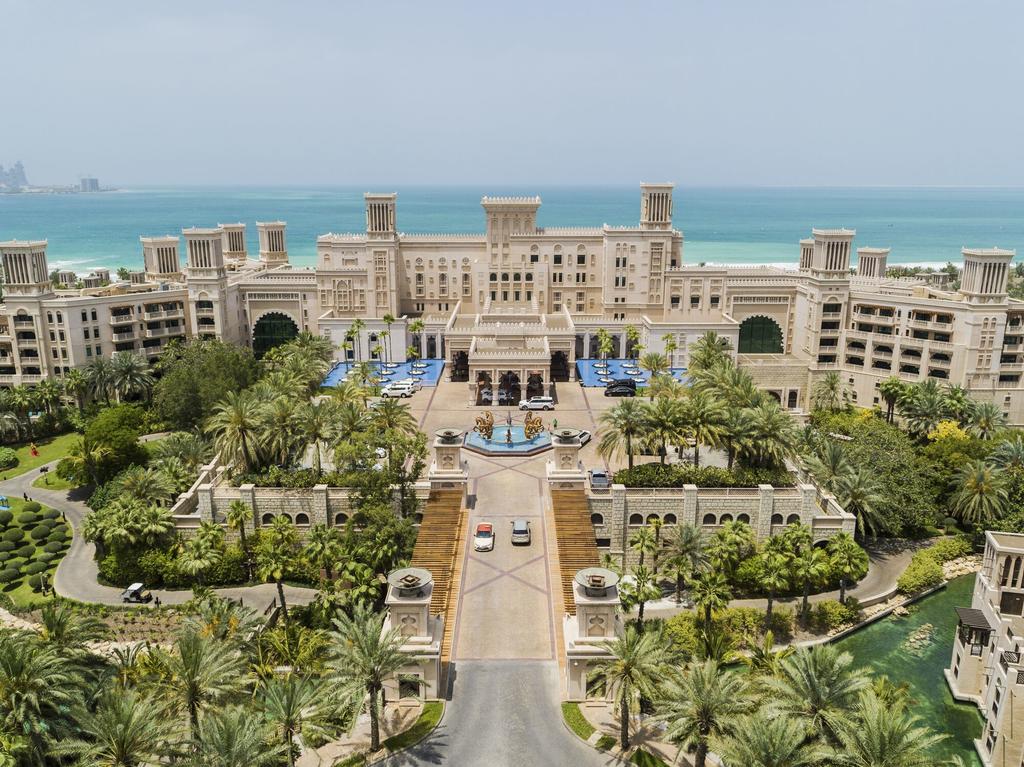 Madinat Jumeirah is a resort complex that comprises of 3 plush babies - Jumeirah Al Qasr, Jumeirah Dar Al Masyaf and Jumeriah Mina A Salam. Al Qasr is the heart of Madinat Jumeriah. Al Qasr exclusively rests with authentic Arabian style architecture and ambience. Al Qasr is a proud shadow of the Sheikh's summer palace with a 3 km pristine beach line. Poetically poised golden stallions in green plush lawns welcome you. Traditional wooden Abras connect you with its neighbours' through waterways. It's extremely convenient online hotel bookings and exceptionally warm hospitality will make you never leave the place. Service is something you will swear by at Al Qasr.
Read also: How Do I Apply for Online UAE Visa
Suites at Al Qasr don king-sized beds, spacious bathrooms and walk-in showers. These suites promise you breathtaking views of Burj Al-Arab and glimpses of Palm island. The structure rests with extensive gardens and oversized pool areas. Al Qasr gifts its guest private beaches with over the top beach activities and water sports. The pool areas are towered with ancient wind towers to cool the soaring temperature and give you a realm of ancient Arabic architecture.
Al Qasr grants access to Talise Spa, fully equipped gym, Sindbad's Kids Club, Wild Wadi Water Park and swim schools to its guests. The Pavilion Dive Centre offers scuba diving for all levels. And a huge shout out for Al Qasr - shopaholics you will never resist this royal nest as Madinat Jumeriah rolls out 75 boutique shops for you. From garments to accessories to perfumes to antique jewellery - Al Qasr promises you nothing but the best. It pampers its guests with a huge array of restaurants with world-famous cuisines.
To keep your entertainment kitty live, karaoke bar lounges, live comedy ballet and live music plays await you. Don't miss the brunch at Al Qasr. It will be a fulfilling experience. Your 30 min drive from Al Maktoum International Airport will be amazing as you roll your eyes over the swanky structures of Dubai. For great deals on comfortable low-cost shuttles, luxury cars and private taxis, use our airport transfer services.
3. Jumeirah Dar Al Masyaf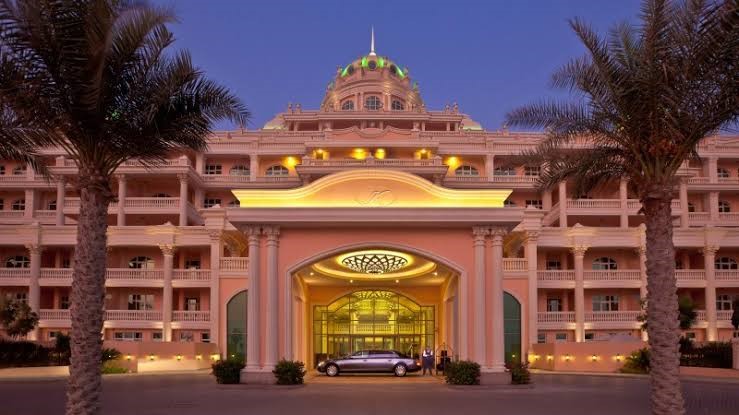 The next baby in the lap of Arabian luxury is Jumeriah Dar Al Masyaf. This piece of modern Arabian culture embedded with palatial grandeur, over the top services and facilities and online hotel bookings are to be cherished. Just a few steps away from Madinat Jumeriah, the staff at Dar Al Masyaf will go to lengths to make things possible for you. They are that dedicated. You will be escorted to your villas in carts and Abras.
Your welcome is grand at the reception with a 5-ton crystal chandelier, one of the most beautiful in the world. Dar Al Masyaf boasts about its 3 main categories of suites. The Ocean Suite is designed to gift you a blissful azure view while you stay. The other 2 - Arabian Summer House Delux and Arabian Summer House Suites offer nothing less than luxurious services and facilities in authentic Arabian architecture style and comfort.  Each villa has its own terrace and balcony. The Navy, Orange and Blue colour combination of interiors are a tribute to Arabian Design. The Malakiya Villa is an exclusive completely private villa with private Abra station, private kitchen, private entrance and private access to Madinat Souk. Because they assure a completely opulent experience for you. 
Read also: Different Types of Visas for Dubai (UAE)
You are assigned a 24/7 butler who will arrange your transfers to airport, shopping, activities and abra rides. Dar Al Masyaf is an excellent choice when it comes to meetings, conventions or family gatherings. The privacy quotient here is most talked about. Your kids will enjoy an absolutely friendly stay at Sindbad's Club. Your vicinity holds massive courtyards and oversized pools. You can let your hair down in the evening Happy Hours as they open up all their bars for guests. It is a good place to socialize. Dar Al Masyaf is well connected with other 2 resorts of Madinat Jumeirah through canal ways. 
Dar Al Masyaf lists at an integral position of Dubai hotels. The ambience of Dar Al Masyaf evokes the tales of One thousand and One Nights in a highly luxurious shade. Your stay here will make you come back for more. 
4. Jumeirah Mina A Salam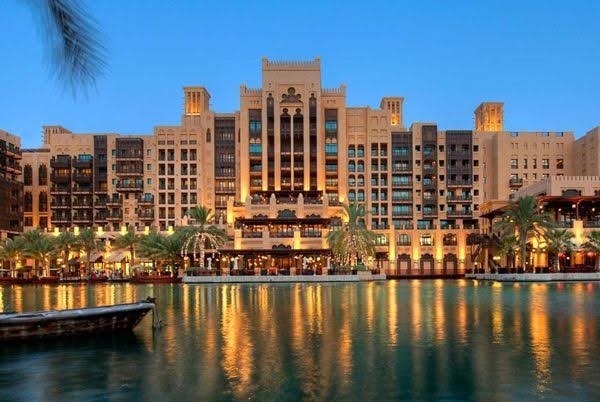 The third baby of Madinat Jumeirah is Mina A Salam. Mina A Salam is a luxurious family resort set in an Arabic theme.  Its rooms are well furnished with king-sized beds with extra bed options, well-separated bathrooms for different purposes and understated Arabian style of living. Its reception is pillared with gold and marble in exquisite style. Don't forget to look up to the old Persian map while at the reception. Your kids are well taken care of at shallow pools with water activities. Your private pool, private butler and an extremely impressive drive-way to the entrance to your room- all will give you an idea of the uber services you will be offered during your stay.
Since it is a family resort, access is almost to all areas. You get free abra rides and access to world-class restaurants and bars. The day view from your balcony is awe-spiring Arabian waves narrating Arab tales. And the night view gifts the all lit up Burj Al Arab grabbing eyeballs towards it.
Learn here: How to Apply for Dubai Visa Online
The entire experience for you will be cosy and warm. You are spoilt with the Great Amouage amenities and toiletries. Your in-room breakfast will be rolled onto a separate table which you dwell in Arabian style. When in Dubai, you should try a Friday brunch. Here at Mina A Salam, Hanna hosts this brunch with fancy food items dipped in the Arabian genre of food. When in one of the properties of Madinat, you got to hit the beach. Guests enjoy all the facilities. Clean beaches with pristine waters and appalling sunsets make your stay fascinating. In summers you might find the beaches deserted but in peak season, you will find many enjoying the moment.  
Mina A Salam occupies one of the top positions in the list of Dubai hotels. Just 38 min away from the Al Maktoum International Airport, your family stay will surely be a spellbinding experience.
5. Jumeirah Al Naseem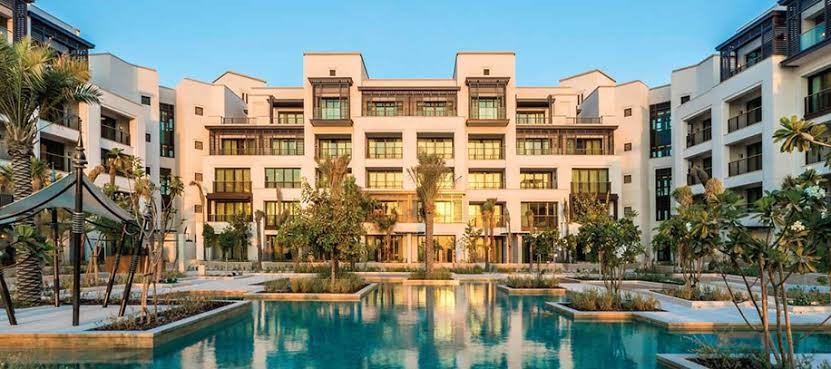 Al Naseem is the newborn luxury baby of the Jumeirah parent. This baby is created with class and style. With 430 rooms and suites, this is the largest hotel in the Madinat. Your welcome is treated in a plush T-shaped lobby arched with wide corridors on either side. White lilies beautifully decorate the lounge that reflects desert colour hues of the interiors.
Titled as 'Modern Arabic Luxury', the golden embellished marble floors reflect the same. The blue stallion canvases at the end of the corridors seal the classy style of designing. The staff is handpicked and extremely fulfilling in their services. Spread across 7 floors, Al Naseem has 8 room categories that include 4 types of suites. The deluxe suites are spread to around 50 sqm whereas the Royal Suite is spread across 437 sqm. Interiors of the suites have been designed to ooze an earthy effect embedded with walnut woody furniture. The ambience at the lounge will give you a complete idea of how your suite would look like. 
You get coffee making facilities within your suite beside a 32 inch led embedded in the dusky walls of your suite. Bathrooms attached to suites have maze tiled showers in separate cubicles. You get a huge wardrobe space just next to the bathroom. Every balcony promises fascinating views of the Arabian waters. Al Naseem is located exactly opposite to Burj Al-Arab. So you get to access and enjoy abra rides, buggy rides, Wild Wadi Water Park visit, Talise Spa and dine onto 7 world-class restaurants. The Palmery serves all day long. You get a variety of options to relish meals at different places. Pool bars like Kalsa serve Mediterrainian delights while Sugarmash is an adult pool bar that serves Polynesian treats and Hawaiian grill pallets. Oomph factor restaurants like Black Tap, the Tuscan II Boroo, the Philippe and the Dubai owned and grown brat Flamingo only add an X-factor to your classy stay.
Al Naseem is thoughtfully designed and dons with uber-luxurious facilities amidst modern Arab interiors and infrastructure.
Al Naseem is the new addition in the list of Dubai hotels. It offers online hotel bookings. This infant is different and contagious. Just 30 min away from Al Maktoum International Airport, Al Naseem commits to a stellar experience for its guests.
6. Jumeirah Beach Hotel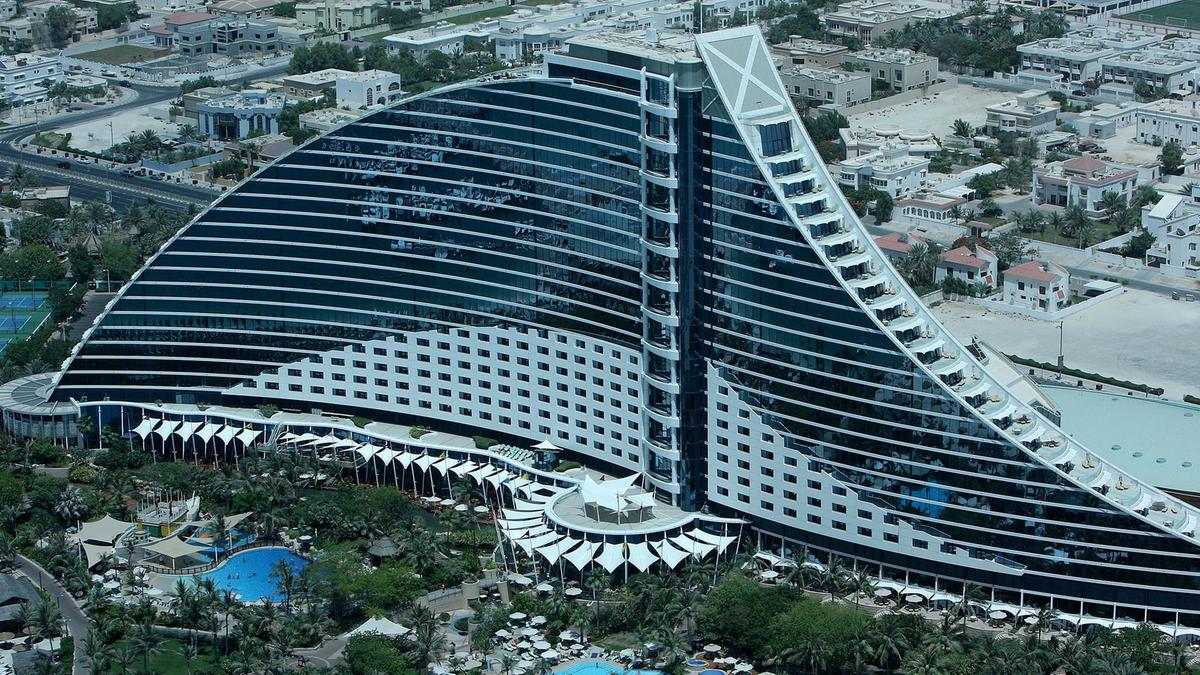 It is hard to beat the Jumeirah Beach Hotel when a luxury family holiday is your choice. Post its revamp, Jumeirah Beach Hotel is irresistible. Shaped as an ocean wave, so are the rooms and suites designed to give you panoramic bliss of the Arabian Gulf. Rooms with twin bed options and housekeeping that is highly skillful in keeping your little tods happy combined with warmth and compassion through their service, Jumeriah Beach Hotel is a home away from home. 
Jumeirah Beach - One of the most beautiful beach in Dubai
One of the prestigious Jumeriah properties, Jumeriah Beach Hotel has its own private beach that offers a huge platter of facilities and beach activities to its guests. Jumeirah Beach is one of the most beautiful beaches in Dubai. Jumeirah Beach Hotel is famous for its night beauty. As the sun dips, waters of Jumeriah evoke as a shimmery blanket with radiant stories to live on. You are welcomed by a king-sized bed and a super comfy L-shaped couch to drop on.  Rooms offer so much control and comfort with breathtaking views that can just sit and unwind. 
Your bathroom space is enough for rock and roll while you look up to the fulfilling luxury amenities. The thoughtful housekeeping cares like none. 
Jumeirah Beach Hotel rolls out 21 restaurants where award-winning recipes await their foodie fans. You can never run out of choice for food at Jumeirah Beach Hotel. Jumeriah Beach Hotel is perfectly located near Bur Dubai and Madinat Souk. You get alluring views of the Burj Al-Arab and your eyes easily reach the man-made wonders in the vicinity. Your unlimited access to Wild Wadi Water Park will keep your tods more than happy. The Sindbad's Club always takes pleasure in entertaining your kids. Don't miss the Talise Spa for a good relaxing session.
Jumeirah Beach Hotel holds a position in Top Dubai hotels. You can reserve your room through online hotel bookings. Just 35 min away from Al Maktoum International Airport, Jumeirah Beach hotel truly justifies the different shades of the ocean.