There is a saying that the manner you welcome the New Year throws light on the quality of the coming year. So, let's have a pleasant Eve! Here are some incredible tips to make this event memorable. With fireworks, feasting and festivities all around, travellers can celebrate the new year in Dubai. Welcome the new year on a boat, quad biking on a dune, or spend your time in the clouds - it's upto you to choose the best way! Keep in mind that you embrace 2023 wholeheartedly.
Enjoy New Year's Eve on a Dhow Cruise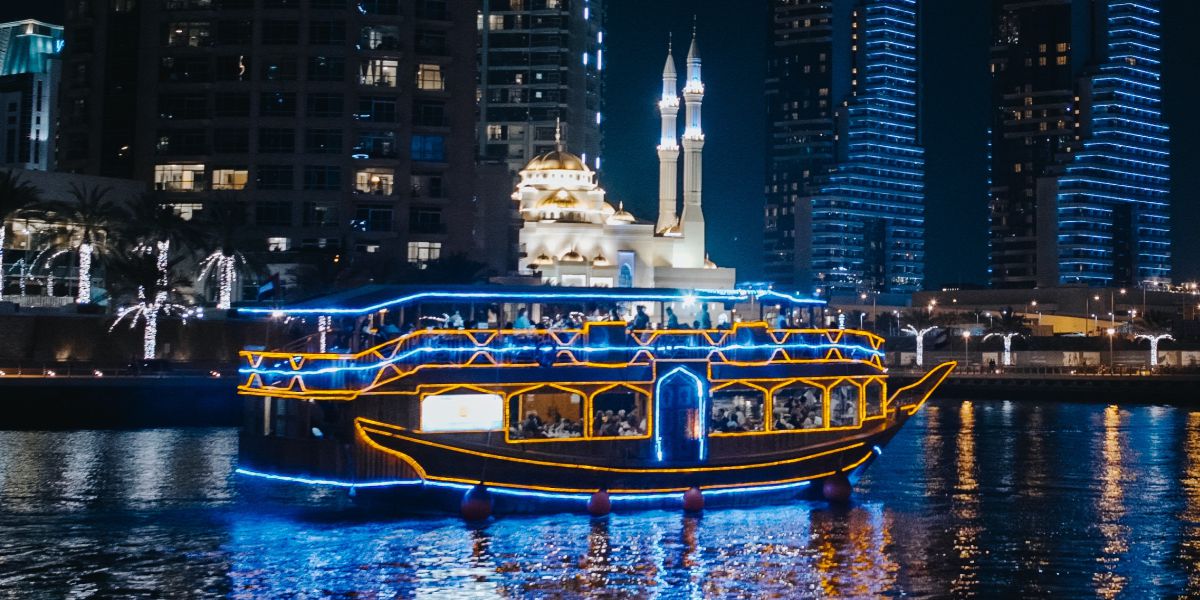 Get ready to board the traditional dhow to feel the New Year's vibes. Fireworks, parties and fancy dinners are an amazing treat to the eyes. It is a perfect way to enjoy the shimmering skyline under the stars and moon. New year celebrations in Dubai multiply manifold with glimpses of the lavish feast prepared by professional chefs. While sailing across the creek in serenity, you can see fireworks from different corners of the city. Along with this, you can capture the iconic views of Dubai landmarks.
Location: Dubai Creek
How to reach: You can request for a pickup from your starting point or book a cab.
What you can experience: Amazing Sight, Sumptuous Dinner, Fireworks
Tips: You can choose your slot depending on the timings that suit you. The general public has a reach to daytime cruises as well as evening dinner cruises.
Best for: Romantic Couples & Fun-Loving Friends
Desert Safari, BBQ Dinner, Belly Dance & Much More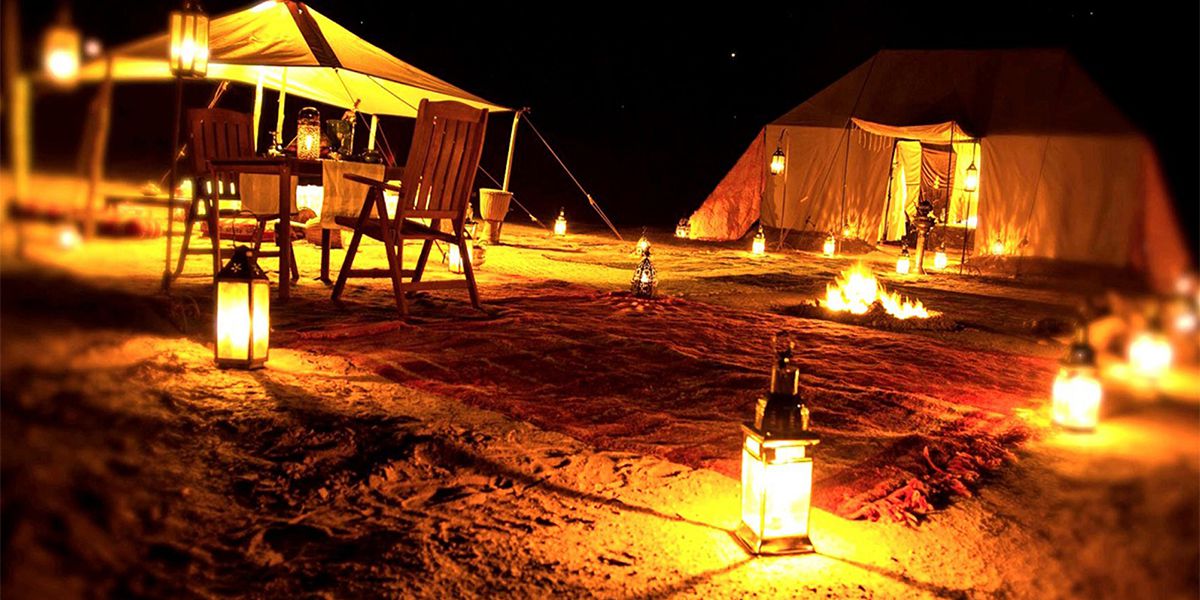 To enjoy the upcoming year traditionally, a visit to any of the vast stretches of sand should be your first choice with a UAE visa. Go in for a desert safari and live up to the extraordinary moments of that one night you will never forget. While being entertained by live music, dance and games, you can enjoy a delightful barbeque dinner. Other popular attractions include camel rides, sand boarding, henna painting, and belly dancing. When the clock strikes twelve, cut the cake to welcome the New Year. A UAE travel visa will make it possible to participate in the celebrations.
Location: Multiple- Al Awir Desert, Liwa Desert, Al Lahbab Desert, Al Faya Desert, Dubai Desert Conservation Reserve
How to reach: Since every site is well-connected to different parts of the city, you can easily take a taxi to reach your destination.
What you can experience: Desert Safari, Camel Riding, Traditional Night Shows, Arabic Cuisines
Tips: Keep some warm clothes with you as the nights in the deserts turn cooler.
Best for: Adventurers, Merry-Makers, Picnic Seekers
Read about: A Complete Guide of Dubai Desert Safari Tours
Capture the Magical Views of Burj Khalifa Fireworks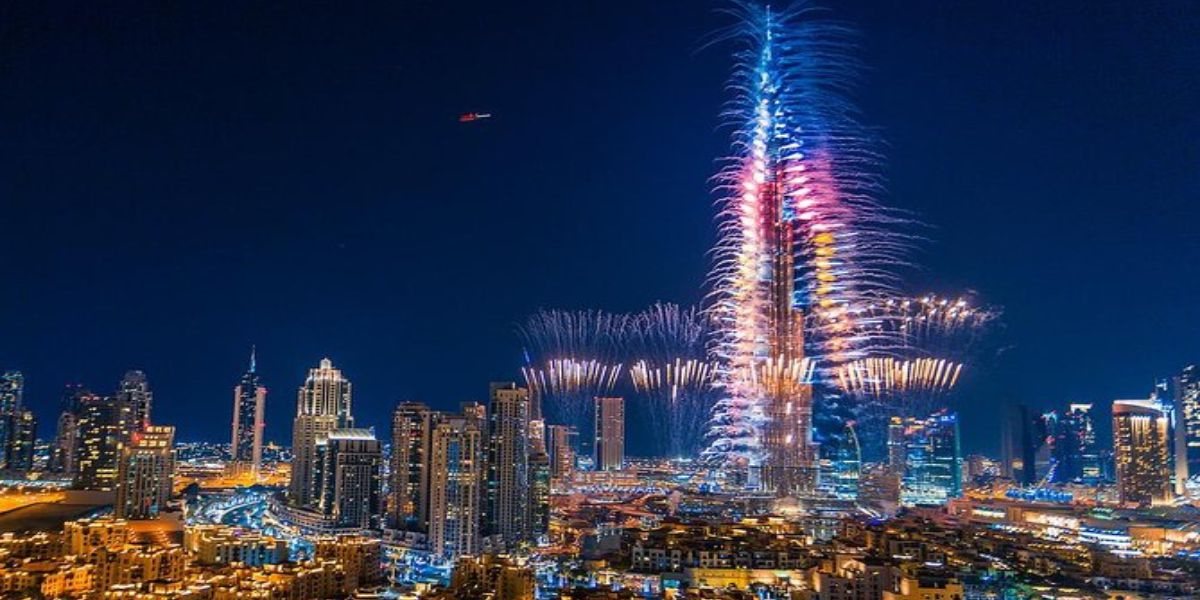 The New Year Eve in Dubai is studded with a rare glimpse of fireworks, symbolising the good times ahead. The display of fireworks is televised all over the world. Thousands of people flock near the Burj Khalifa to say goodbye to the outgoing year. Along with fireworks, you will be entertained by a light and water show. If you have a plan to visit Dubai on the eve of New Year, make it a point to reach your destination well before 10 PM. Otherwise, the roads are blocked till 12 PM as everyone finds a safe place to gaze at the fireworks. Several Dubai new year concerts also take place in the vicinity of this place.
Location: All around Burj Khalifa
How to reach: Local transport is available to take you to different sites.
What you can experience: Fireworks, Light and Water Show, Musical Celebrations
Tips: As far as private viewing in Downtown Dubai, travellers can go in for registration through Emaar App. You will be allotted a particular place where you will be required to show a QR code to enter the premises.
Best for: Everyone
Read more: Burj Khalifa: The Dubai Stunner - A Tallest Building in The World
Ring in the New Year with Dancing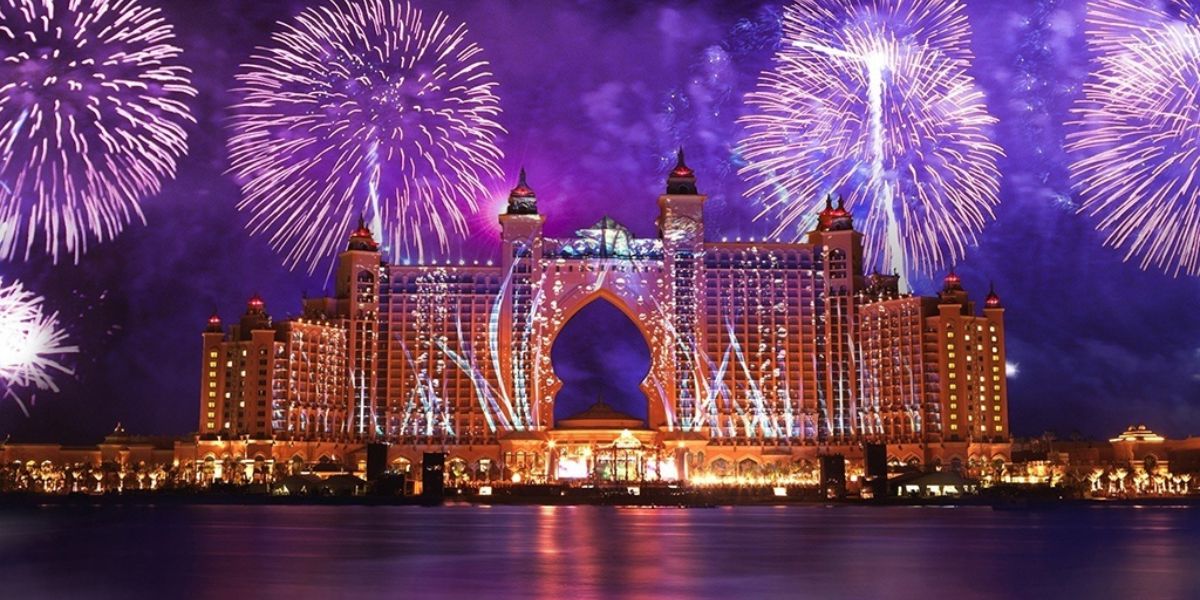 The New Year Eve in Dubai stands incomplete unless your dance your way throughout the night. The city hosts some of vibrant and lively parties. Well-known places for thrilling new year party include Nasimi Beach, Mina Seyahi and Barasti Bar at the Le Meridien. In addition, Atlantis on the Palm is one of the most renowned places for celebrating the eve. Sundance Beach at the Atlantis hosts DJ nights to inspire you to dance the night away. So, don't think much and head toward the new year party in Dubai.
Location: Variable- Nasimi Beach, Mina Seyahi, Barasti Bar at the Le Meridien, Atlantis
How to reach: You can book a cab or taxi to reach the place of your choice
What you can experience: Loud Music, World-Class DJs, Delicious Food, Lively Atmosphere, Drinks
Tips: Such sites attract a huge number of visitors, so reaching in time will be advisable.
Best for: Party Lovers, Newly-wed Couples
Spend Your Time at Global Village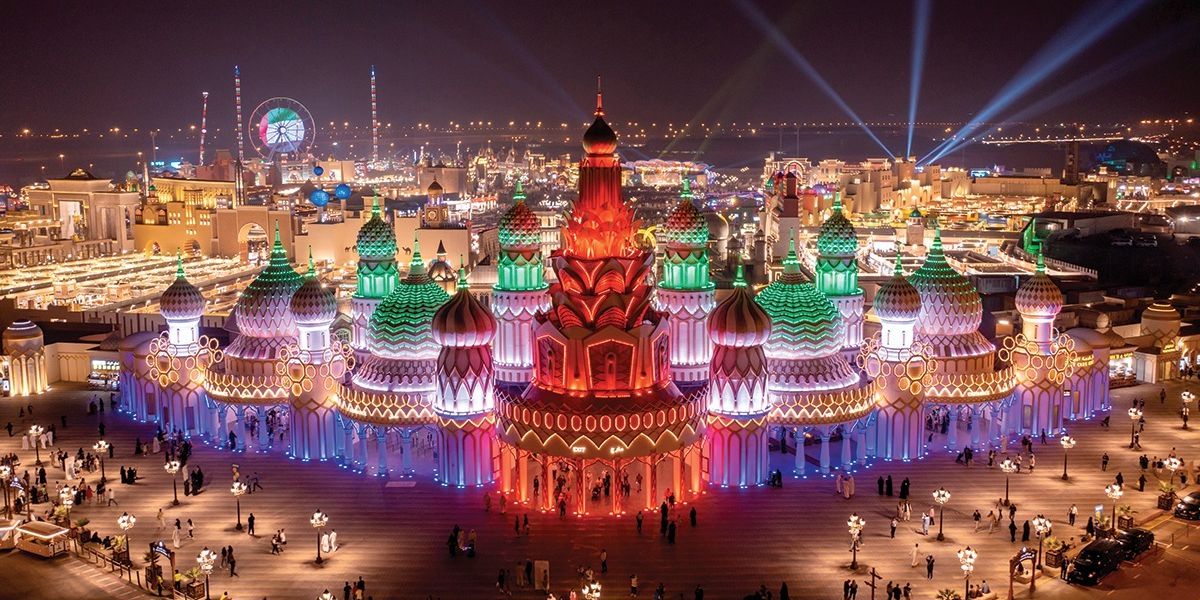 Among all the best places for New Year in Dubai, Global Village is one of them. It is a favourite destination for locals and tourists alike. The site will provide you with an opportunity to discover the New Year traditions of more than 75 countries worldwide. The Carnaval is extremely popular among kids, and they will definitely enjoy life to the fullest. The Global Village New Year musical fireworks are an amazing treat to the eyes. A UAE visit visa is an excellent option to greet the New Year at this cultural, entertainment and family destination.
Location: Sheikh Mohammed Bin Zayed Road
How to reach: You can either hire a taxi from your place or board a local bus to arrive at Global Village.
What you can experience: Concerts and Shows, Exciting Rides, Shopping, Dining, Fun-Loving Activities, Musical Fireworks
Tips: There will be no availability for Valet parking. Paid parking will be available right in front of the Gate of the World.
Best for: Cultural Enthusiasts, Shoppers, Kids, Adventurers, Concert Lovers
Mesmerising Beach Experience on New Year's Eve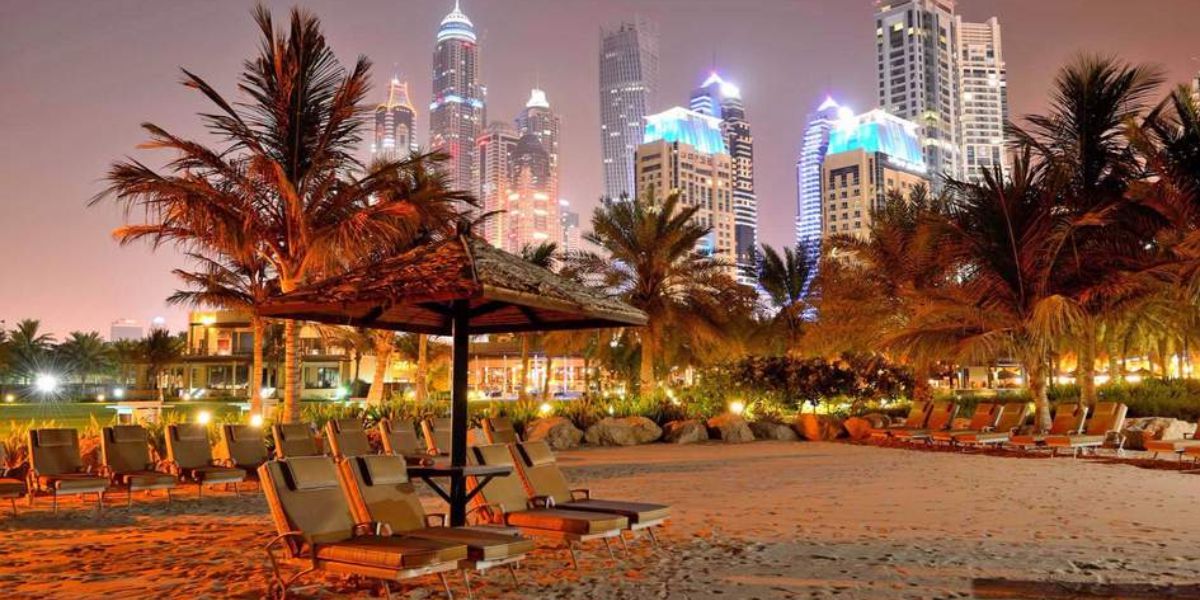 Planning how to celebrate the new year with family, friends or loved ones? Nothing can ever be compared whenever the beach comes to our mind. So, a visit to Jumeirah's public beaches or Jumeirah Beach Residences' beaches is always recommended. It is one of the best options to commemorate the upcoming year. Having a sight of Dubai's skyline lighting will you make you spellbound. Madinat Jumeirah is proud to host the New Year's gala dinner as well as live entertainment programmes. Over and above, Dubai new year concerts are also worth-attending.
Location: Jumeirah Beach
How to reach: You can book a cab to get to your preferable beach party place in Dubai.
What you can experience: Picnics, Fireworks, Adventures, Excellent Food Establishments, Activities for Kids
Tips: It is one of the busiest spots in Dubai, so arrive a little early in the evening to secure a perfect place.
Best for: Family, Recently Married Couples, Sports Enthusiasts, Picnic Lovers
Soak in the Party Vibes at Dubai Opera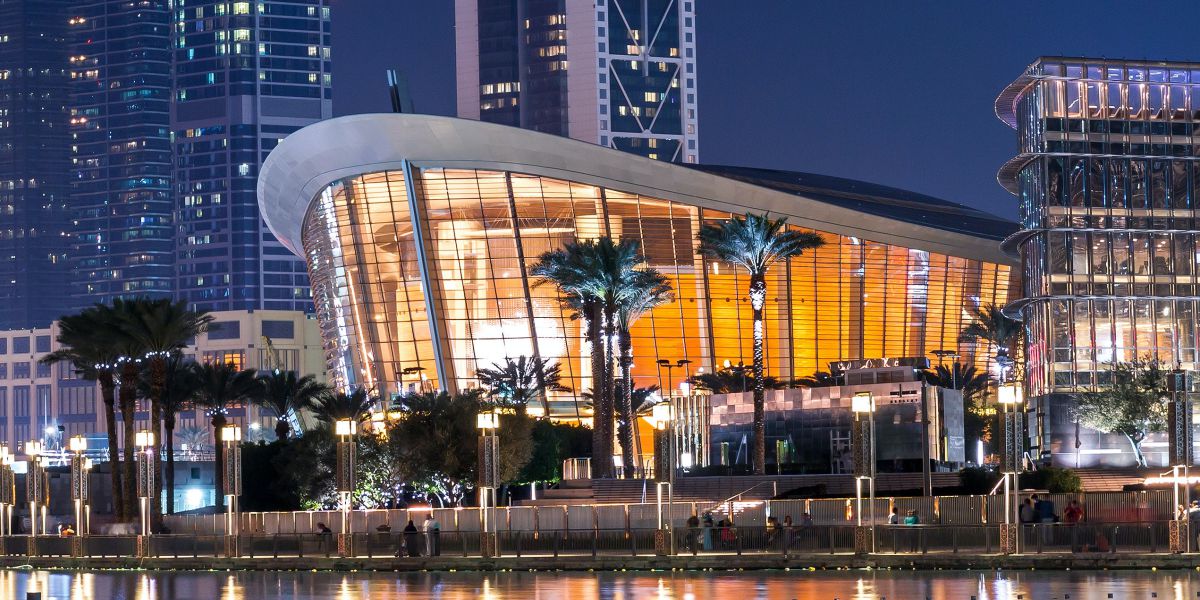 A UAE visa will let you experience the magic of Dubai Opera on New Year's Eve. Have a royal dinner and greet the New Year by watching an incredible show at this site. When the clock ticks 12, the DJ makes the crowd go beyond the limits on the musical beats. There are live concerts and shows of eminent musicians. Events begin at 8 PM and last till 2 AM. The place offers a complete plan for the New Year celebrations in Dubai.
Location: Sheikh Mohammed bin Rashid Blvd, Downtown Dubai
How to reach: The Dubai Opera is located near the Burj Khalifa. If you are travelling by metro, you should go in for the Red Line to the Burj Khalifa/Dubai Mall metro station.
What you can experience: Delicacies, Live Music, Concerts, Shows, Fireworks
Tips: Booking tickets in advance for the events is highly recommended. Apart from this, there is no facility for Valet Service at Dubai Opera.
Best for: Event Lovers, Family, Couples, Merry-Makers, Music Fans, Dance Enthusiasts
Read More: Dubai Night Life - Top 6 Night Hot spots in Dubai
Multiple Entertainment Choices at La Mer or Al Seef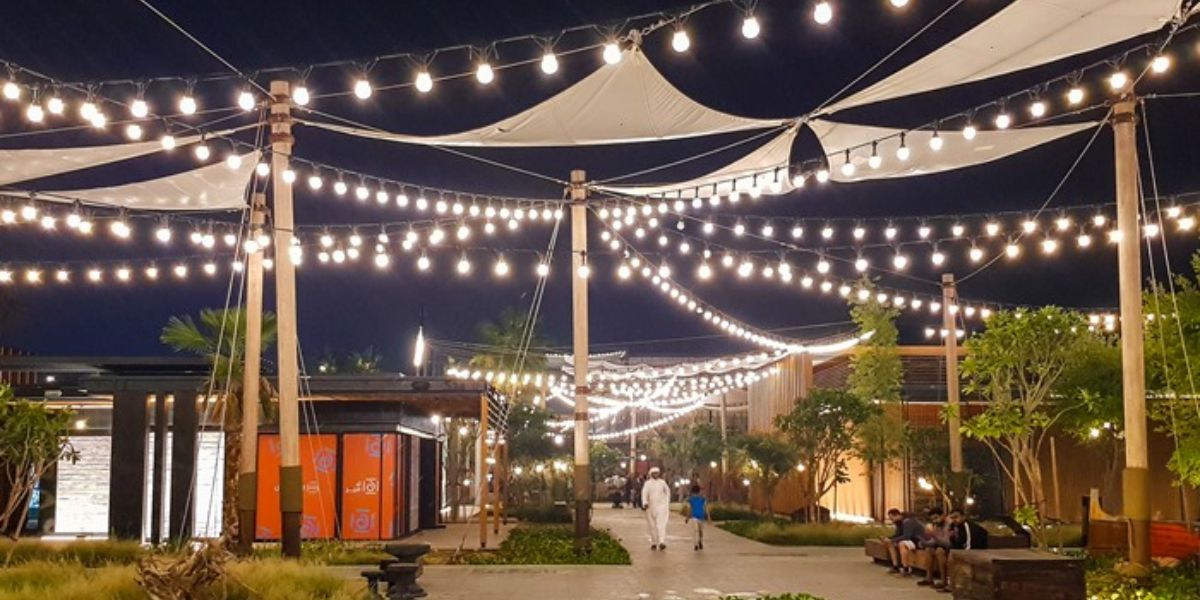 If you are thinking about an unusual New Year Eve in Dubai, head towards Al Seef or La Mer. Here, you can indulge in the delightful festivities with live music at the waterfront market. It provides an amazing view to visitors. Kids can come across a lot of fun-filled activities at the carnival rides and petting zoo. Multiple dining choices will take you by surprise. Be prepared for the special New Year aura at the place. In addition, you will be wonder-struck at the New Year celebrations in Dubai, with fireworks at 12.
Location: Al Fahidi Building, Al Seef, Dubai Creek Building, Near Al Saif
How to reach: If you are travelling by car, you can visit via Sheikh Zayed road. You can also arrive at the place by water taxi. Burjuman station is the closest option if you are coming by metro.
What you can experience: Diverse Cuisines, Wide Open Walkways, Fireworks, Carnival, Live Music, Special Aura, Graffiti Art and Cabanas, Fireworks
Tips: La Mer consists of 4 zones, i.e., The Beach, The North Island, The Entertainment Hub, and The South Island. Try to choose in advance the best site you would like to visit and spend quality time.
Best for: Kids, Foodies, Music Lovers, Shoppers
In view of the diverse entertainment choices on New Year Eve in Dubai, celebrating the occasion will be an amazing experience. So, don't wait, avail of our visa services and head towards Dubai.