Many a time we are caught in sheer confusion of how authentic is an agency or its services, especially when it comes to visa. With travel preps peaking up, it becomes very stressful whether you have hired the right one or not.
You need to keep in mind that many agencies provide Dubai visa services both online and offline. Offline services are tedious and time-consuming. That is the reason, many have shifted to online Dubai visa services. Agencies providing online Dubai visa require minimum documentation and time. While working closely with the embassies or consulates, Insta Dubai visa ensures to withhold its customers till the service is delivered as per the customer's satisfaction.
Customer reviews play an important role when you need to decide on which agency to pick for genuine UAE visa services. Our customers have taken out a bit of their valuable time to post their experience with us. This is one of the recommended ways to know that the agency which you have picked up is good for you or not. InstaDubaivisa.com reviews are available on platforms like Trustpilot.
We would like to share Insta Dubai Visa reviews with our visitors and future travellers so that they get a genuine insight into IDV. These reviews are posted on the website www.instadubaivisa.com. 
You will find many Insta Dubai Visa reviews online. One of our customers posted Insta Dubai Visa review on Tripadvisor, which is looked up to by many hardcore travellers when it comes to knowing how authentic we are when it comes to Dubai visa services.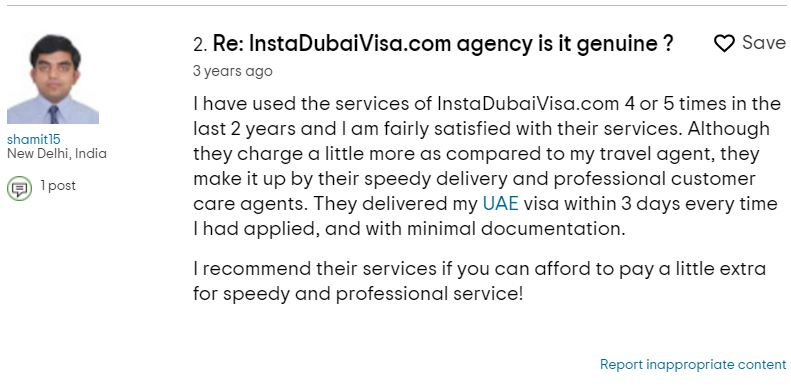 "… speedy delivery and professional customer care agents…."- Insta Dubai visa stands for its quick visa delivery as it boasts about having the lowest rejection rate in the industry. Having said that we are known for speedy visa approvals as our approach is customer-oriented. Visa specialists at IDV come with years of experience in handling customers and providing them with visa services beyond perfection.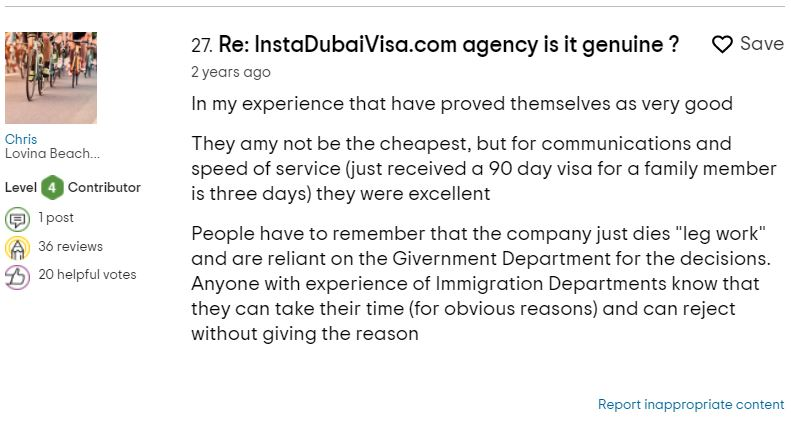 We always guide and coach our customers that the visa service is highly professional. With some nations, extra documentation is required due to the ever reforming travel policies of that particular nation and current foreign ties with the nation. In such scenarios, Dubai visa processing requires the highest level of efforts and authentication which only Insta Dubai Visa provides. When we are handling group visa approval for family, group tours, we make sure we deliver most efficiently. We understand that a smooth trip is backed by seamless and worry-free visa services. Many times the embassy even rejects visa applications if required visa documents or additional documents are not submitted in the assigned time frame. So, we highly recommend our applicants strictly follow guidelines or instructions put across by Team IDV.
For better understanding, please visit our official Insta dubai visa Blog.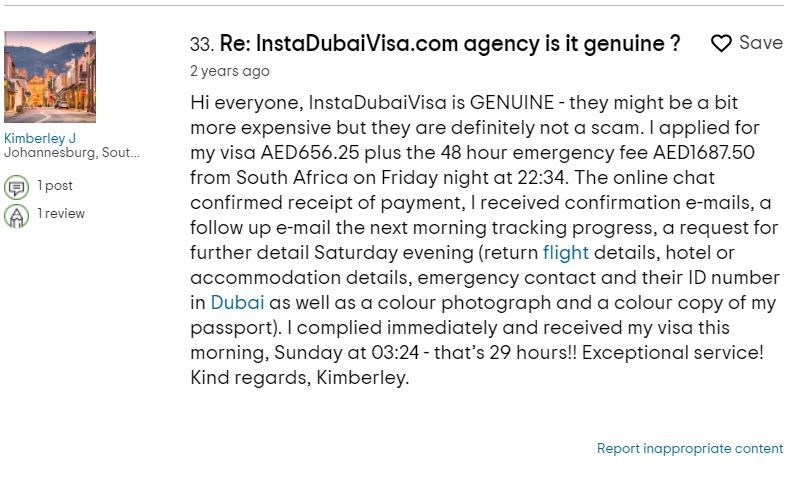 This review from Tripadvisor again proves that our customers do appreciate what we are known for because we deliver what we say. When it comes to urgent travel plans, no other name than IDV is reliable according to Kimberley from South Africa. When your payment is confirmed, we take-off from there on a priority basis and this stands for every customer. Applicants start receiving confirmation of payments, acknowledgements, the status of the visa application, progress of an application and finally their electronic visa or e-visa. This is why we highly recommend our applicants to provide authentic and accurate information while filling the online visa application. If invalid or incorrect details or information is provided, IDV does not stand responsible. Our chat experts aim to remind applicants of the same.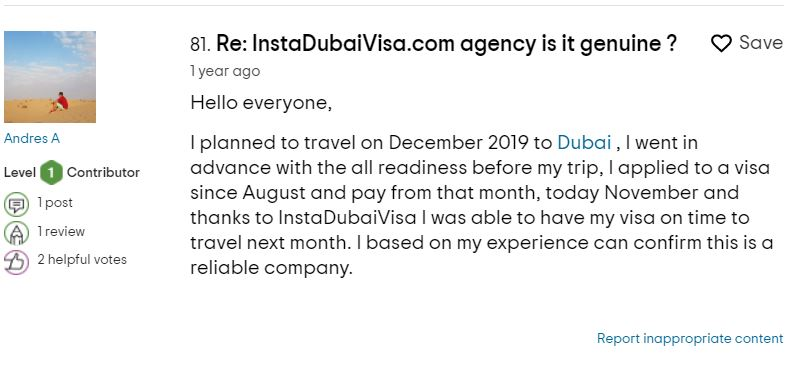 You will find a lot of Insta Dubai Visa reviews on the web. Sometimes simple yet genuine reviews play a vital role in projecting a company's genuine stance. You are recommended to visit our Dubai Visa blog section to learn effective ways to apply for a visa. This will also help you in understanding the process, where sometimes the agency has genuine reasons for other aspects like extra documentation, unclear photographs, misleading or incorrect information and similar such reasons.
Also read: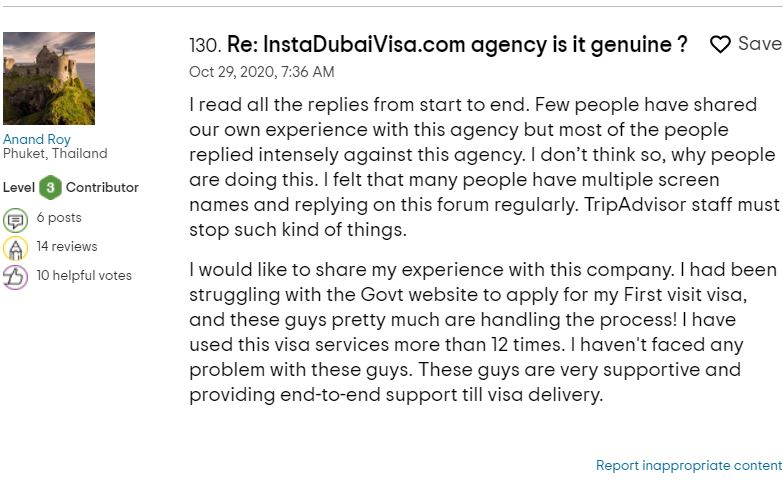 This IDV customer from Phuket posted a review on Tripadvisor. Here he is seen redirecting visitors to carefully understand whether a particular review is real or not. Customers and visitors need to keep in mind who is writing a review to share their experience and who is instigating to pull down a particular brand. When one writes by sharing experiences or facts or details, can be an experience. But when some sentences are written intensely against the agency, then you should understand what should be done. Dubai visa can be applied without any hassles and quick through Insta Dubai Visa.
For genuine reviews, visit Insta Dubai Visa Customer Reviews section.

Some of our customers are busy. We feel elated when they just put down a quick review for Insta Dubai visa. This means a lot and helps us in providing better visa services to our customers. Providing exceptional Dubai visa services in the shortest recorded time with the utmost professionalism is our motto. These kind of InstaDubaivisa reviews can be found on Trustpilot.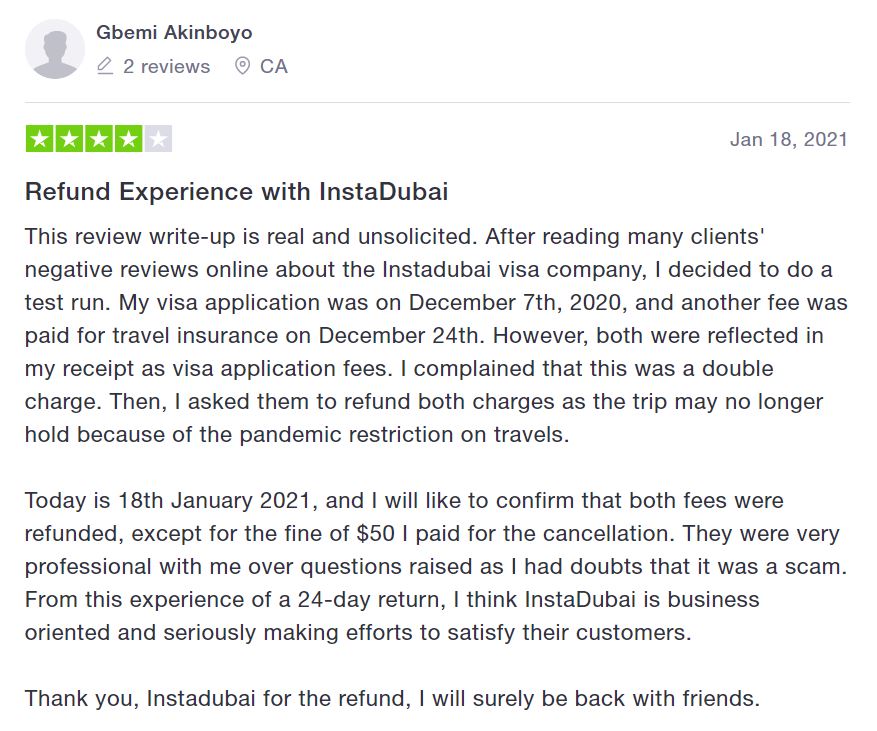 We always suggest our customers and visitors read carefully our Privacy Policy and Terms of Use. It is drafted for the convenient use of the applicants seeking visa services from Insta Dubai visa. Our refund policies are clearly stated and any doubts are entertained by Team IDV chat support. Our website provides all communication channels to facilitate effective communication. Many of Insta Dubai visa reviews communicate about our quick response time and efficient visa delivery. Instadubaivisa.com is known for such proficiency.
"…business oriented and seriously making efforts to satisfy their customers."- Insta Dubai visa is committed to customer satisfaction by providing the highest level of professional service.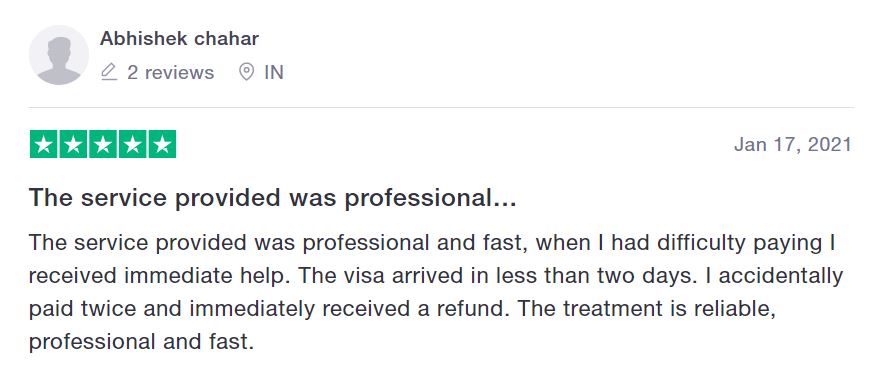 While using Insta Dubai visa, you are accessing and sharing your information in a highly secured environment. Even if you face issues related to payments like you have paid twice, do not worry. Rest assured, you are in safe hands and you will receive any extra money that has been paid to us apart from the service hired. We understand the value of your hard-earned money. By visiting Instadubaivisa.com website, you can peek into Insta Dubai visa reviews.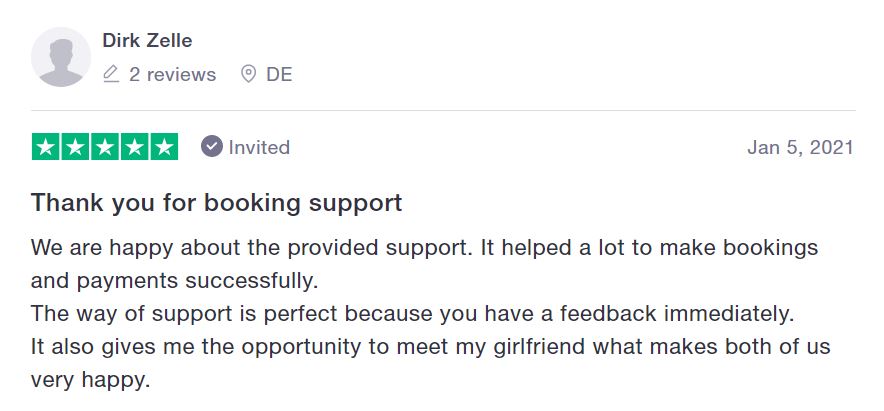 We understand that your purpose of travel can sometimes mean the world to you. We care for your concern and make sure you do not fall apart from your commitment. Providing services beyond our space makes us happy to help and assist you. Applicants should always share their concerns about visa requirements. This helps us to bond with our customers and build a lifetime relationship. Thank you Dirk Zelle.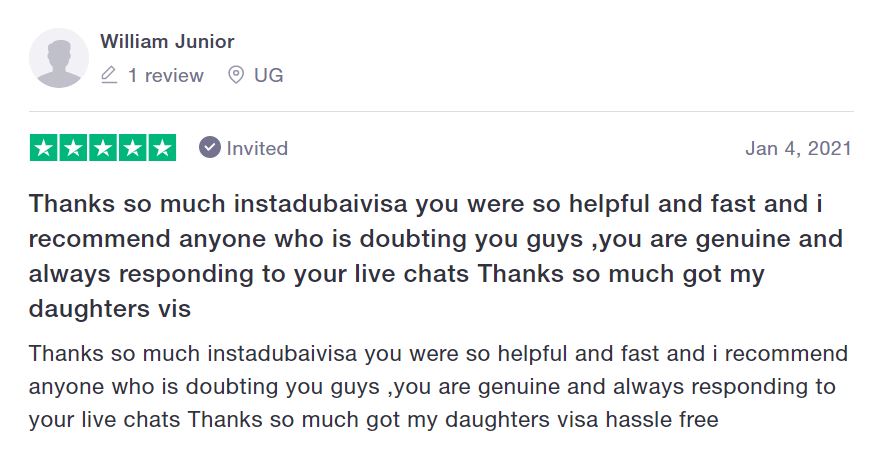 William Junior was quite concerned about his daughter's visa. We take utmost care when it comes to your concern regarding your family, especially children. When we choose something for a child, we are extra cautious. We thank William for allowing us to provide service and entrusting upon us to his family. This makes us even more responsible and committed to our work and business.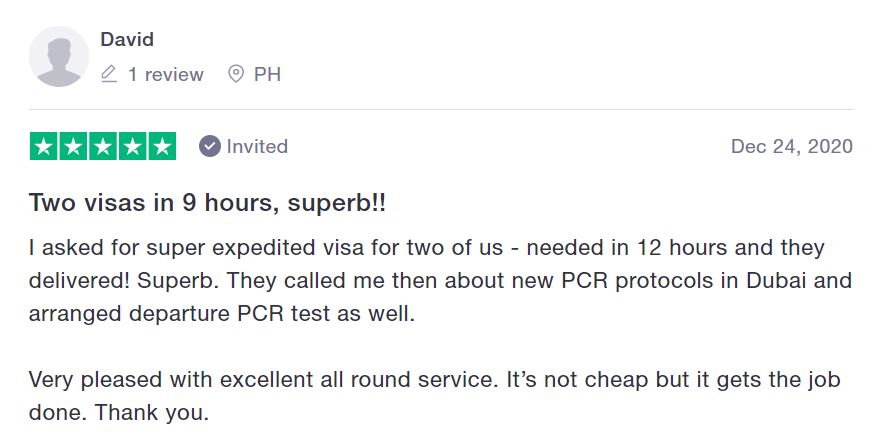 Yes, this is what we specialise in - less time frame and getting the job done. We truly commit to the customers' preference and concern. Team IDV makes sure that the customer leaves our site, satisfied and happy. We love to deliver expertise. It helps us to bond with our customers. Taking out time and posting a review for Insta Dubai Visa is amazing. This helps other visitors to know whom to approach when it comes to multiple visa deliveries in the shortest recorded time.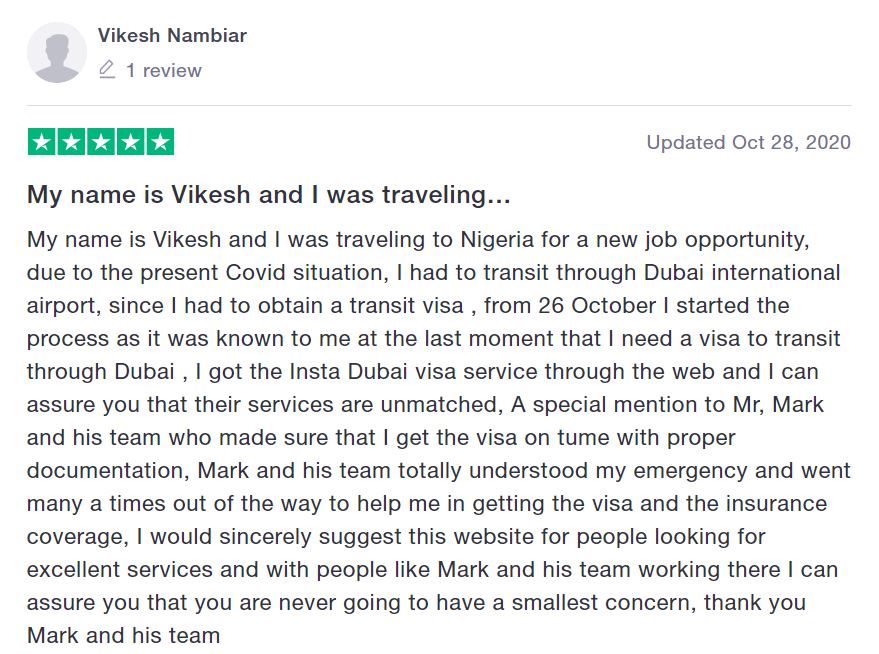 The pandemic has changed the way to travel. Many countries have set protocols to keep the safety of travellers and locals. Travellers do have their concern while travelling. Team IDV understands and cares for these genuine concerns. Our visa experts make sure the applicant is given all the answers to his/her queries. Team IDV makes sure that the applicant is well-guided by us so that the traveller is well-aware of the travel protocols which need to be followed in the destination country.
This Insta Dubai Visa review is taken from Sitejabber. Here the customer talks about how speed and professionalism helped him entrust Insta Dubai Visa. The refund which the customer received was bound to happen as we value your hard earned money. We only charge for the service which you have bought. If any technical glitch occurs, we make sure or customer is attended in the best possible way. Such type of Instadubaivisa.com reviews helps both the customer and the brand to build strong relationships.

Another Insta Dubai visa review from Sitejabber that proves that IDV has a high-reliability quotient. When this customer approached Team IDV, he was already ditched by a tour operator. In such a scenario, it becomes quite difficult to trust any other brand. Our motto is to make your trip a memorable one. We have the lowest rejection rate in the industry and we swear by it.  Sharing Instadubaivisa.com reviews makes us share genuine experiences straight from the horse's mouth.

Gwen was someone who had concerns for his parents as they were about to make their first travel. The easy fill-up online application forms and secured payment methods impressed him. The entire online application process at Instadubaivisa.com is so simple that you can handle it by yourself. In case you get stuck, Team IDV is always there to assist you. The 24x7 chat support team of visa specialists come with seasoned backgrounds in visa services. You will find many Insta Dubai Visa reviews appreciating our visa experts. 
Reviews play an important role in analysing the authentication factor of an agency. It is equally important to distinguish which review is intended to give a message of an experience with the agency and which is intentionally misleading.
Travel Safe!