West Swing East To Sun Tan
They like our summers, and we appreciate their winters. Life is a beautiful phase of complementing and contrasting tastes.
The definition of touring has lost its true meaning. Travelling is a part of touring, but it is never vice-versa of it. Until the visitor experiences a calm mood and high energy levels after the vacation, the purpose of touring remains incomplete. Every travel destination has some positive to impart, like the sunbathing beaches in UAE, which Western visitors believe to be beautifying skin attributes.
Apart from the Winter Shopping Festival, sunbathing in UAE during winter vacation is another important reason for the high booking of UAE visas.
Suntan stands for beauty which is an unshakeable perception in the West. They are obsessed with suntanning. Most offshore visitors, especially from the United States, prefer winter vacations in UAE.
Nations in the eastern continents avoid suntans, while the Western desire to suntan in UAE.
Nations falling in the Asian continent, like India, avoid sunbathing in UAE, but in the West, it's a way to self-beautify. They desire to suntan and are quick in applying for UAE visas for Winter sunbathing at the beaches in UAE.
Suntanning has dual benefits; foreigners get body tanning and Vitamin D too. Sunrays have mood-boosting and energy-improving potential. All seven Emirates have sunbathing beaches in UAE and are famous for winter tanning.
UAE affairs headline the most on the news media, be it their surging economy, Tourism, or the 2022-23 upcoming events, but it fetched more attention post-liberalizing their visa norms.
The UAE, GCC, and Saudi Arabia are the countries with whom global business houses are interested in trading owing to their flexible policies.
The FIFA World Cup 2022 is the hottest event that UAE will host in December. After Christmas in UAE, the IIFA Filmfare awards events in Abu Dhabi in January 2023.
Read More: Plan your vacations- Abu Dhabi Events and Festivals
British Wireless Festival is another iconic event to go live first time in the UAE in March 2023. Events rail in the Emirates in 2022-23, and some have already begun. UAE attracts worldwide visitors; some tourists love the scenic landscapes and some like shopping, but at the onset of the Winter, foreigners marathon to UAE beaches for sun tanning.
1. Irresistible Ajman Beach in Dubai
No visitor can resist visiting UAE as it shores mind-blowing beaches, and Ajman Beach is the perfect sunbathing beach in UAE.
During the peak winter season, western tourists are seen in winter clothes sunbathing at the shore of Ajmal Beach. They return home after enjoying Christmas in UAE.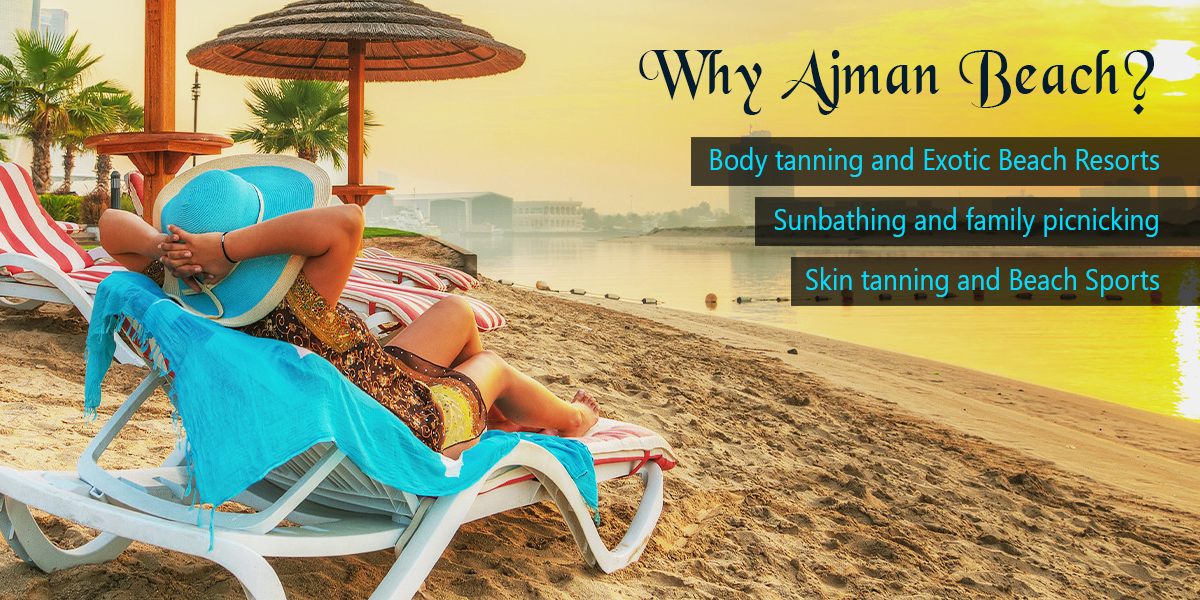 The sun tanning UAE beaches are jam-packed from November 2022 onwards as events spread throughout 2023 next year.
Ajman Beach attracts more visitors in Winter using its natural beauty as bait, compelling tourists to Winter tan at Ajmal beach in UAE.

You can stretch and relax, tanning your body and feeling the mild sun rays warming your body. Ajman is the smallest Emirates with the longest beach, quite spacious for sunbathing, picnics, water sports, and beach volleyball.
It lines coastal beauty and enigmatic shore view, which reasons why families choose Ajmal Beach for picnicking. It's the only beach in UAE that suffice vacation delights for family and friends.
They love to holiday in UAE, especially at Ajman Beach in UAE.
Read More: An All-Inclusive Guide on Dubai Vacation in April
You can also go for dips in the clear, clean sea without worrying about safety. Every beach in the UAE has dedicated lifeguards and safety amenities. Some good resorts near Ajman beach excel in providing top-class hospitality services to visitors.
2. White Sand surface mat for suntanning at Saadiyat Beach, Abu Dhabi
Many things one can do in Abu Dhabi, but western visitors look for the best sunbathing beaches in UAE, but most choose only Abu Dhabi's Saadiyat Beach.
It is the intensity of the UV radiation at Saadiyat Beach which suits foreigners. The optimal sun radiation is skin beneficial, motivating visitors to flock to Saadiyat Beach, Abu Dhabi.
The motive behind applying for an Abu Dhabi visa is to absorb a good amount of vitamin D and have a beautiful body tanning. Western travellers who desire to spend their winter vacation in UAE mostly opt for Saadiyat Beach for Sunbathing in UAE. Visitors love sprinting over shoring waves that span over a 27-square-kilometre area.
Abu Dhabi's Saadiyat winter sunbathing beach in UAE is an outstanding natural island with a perfect squeeze of leisure, cultural, residential, and business flavour. Saadiyat Beach floors with white sand spreading mat for suntanning. For suntanning in UAE, Western visitors prefer travelling to Saadiyat Beach in Winters vacation, followed by kite-flying and building sand castles. It is an ideal beach for Sunbathing in UAE during winter vacation.
It shores the perfect spot for morning and evening strolls. You can have a rare view of the sunrise and sunset at Saadiyat Beach.
The Saadiyat Public Beach in Abu Dhabi beaches cafe shops, changing rooms, bathrooms, retail shops, and capacitates 300+lounge chairs. It can accommodate around 100 people at the Beach Café.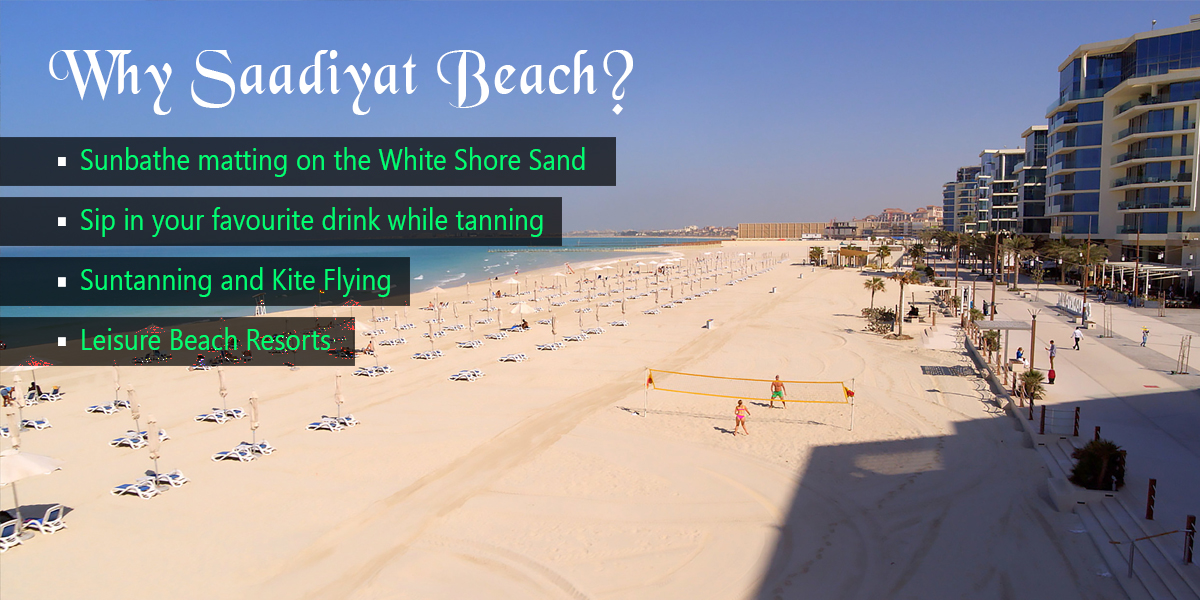 3. Winter Tan at Al Khan Beach, Sharjah
Al Khan Beach is an irresistible sunbathing beach in Sharjah, UAE. Foreign tourists prefer this winter beach due to its location vantage. Sharjah Aquarium and Maritime Museum are just 1.5 km from Al Khan beach. Visitors who travel to Al Khan Beach for suntanning can visit other nearby travel destinations. It gets global recognition for being the best suntan city beach and known for its beach resorts.
Visitors from the United States, U.K. and other countries who like water sporting visit Al Khan Beach, Sharjah, UAE. Al Khan Beach is one stop destination for fun aqua activities like surfing, kayaking, flyboarding, and parasailing, but popular being the best sunbathing UAE beach.
Al Khan sunbathing beach in UAE in Winter vacation is for visitors looking for an extra relaxing experience.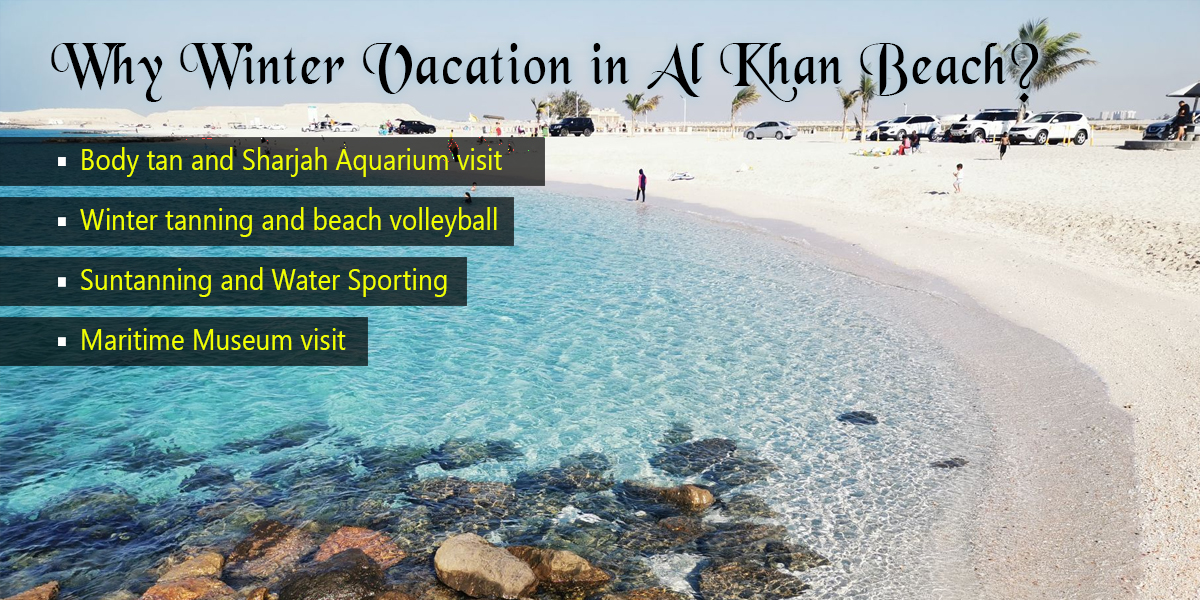 4. Umm Al Quwain Beach
Umm Al Quwain Beach is the ideal shore for sunbathing in UAE during winter vacation. The sunsets are delightful, and the evening waves are soothing. The shore sand acts like the perfect relaxing mat for visitors while sunbathing. It's the ultimate sunbathing beach to visit during the winter vacation in UAE.
Umm Al Quwain UAE Beach is for sunbathing and sailing. For children, it's the Dreamland Aqua Park that keeps them busy. It is one of the most significant water delights in the UAE, where fun is never-ending. After sunset, visitors' night camp at Umm Al Quwain's desert to relax, gazing at the stars that spread across the sky at Sunshine Camp, an experience which no visitors miss.
Read More: Best Public Beaches in Dubai
5. Dibba beach, located in Fujairah
Dibba beach, located in Fujairah, UAE, is well-known for swimming, sunbathing, kayaking, and many activities to help soothe a chaotic mind.
It is known for its lovely beach and mountains, mesmerizing visitors who visit the Dibba beach for sunbathing in Fujairah.
Dibba Beach in Fujairah is a fabulous sandy beach best for Winter sunbathing in UAE, fishing, diving, boating, and other exciting water feats. Visitors like revisiting Dibba Beach once they suntan here.
UAE Winter sunbathing is the most lucrative part for visitors travelling to Dibba Beach in winter vacation. At Fujairah Dibba Beach, visitors swim and dive to the fullest, enjoying the marine life, including boating and fishing. The beach facilities here are commendable; it has all basics, necessary, and essential amenities available for the visitors.
Night stay campsite is another fun-loving post-sunset activity that you would enjoy in Fujairah at Dibba Beach.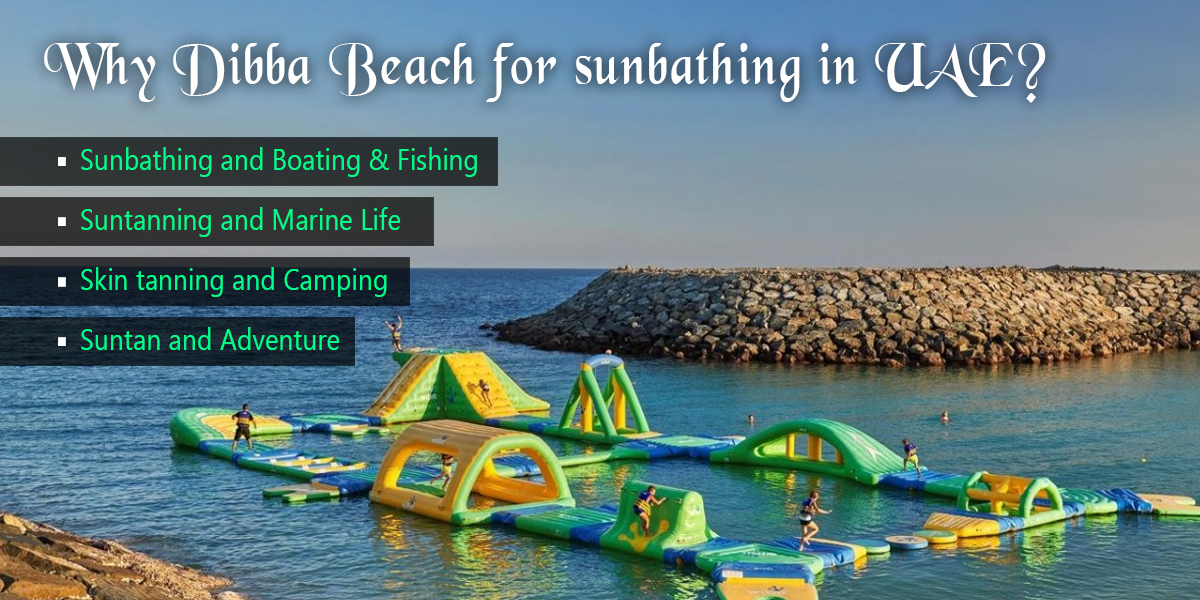 6. Flamingo Beach, located in Ras Al Khaimah
The emirate of Ras Al Khaimah coastlines exotic beaches that shore limits waters of the Arabian Gulf. Flamingo Beach in UAE shores golden sand and is the best skin tanning UAE beach in Ras Al Khaimah.
It is a well-maintained beach with crystal clear water, best for sunbathing in UAE Winter. The scenic view of Flamingo Beach is quite charming that lures global visitors to Winter sunbathing in UAE. It paves interlocking walkways across the beach, making walking easy for visitors.
Flamingo beach in Ras Al Khaimah best serves families visiting UAE for sunbathing.
There is no entry fee for sunbathing, relaxing, picnicking, or swimming at Flamingo Beach in Ras Al Khaimah.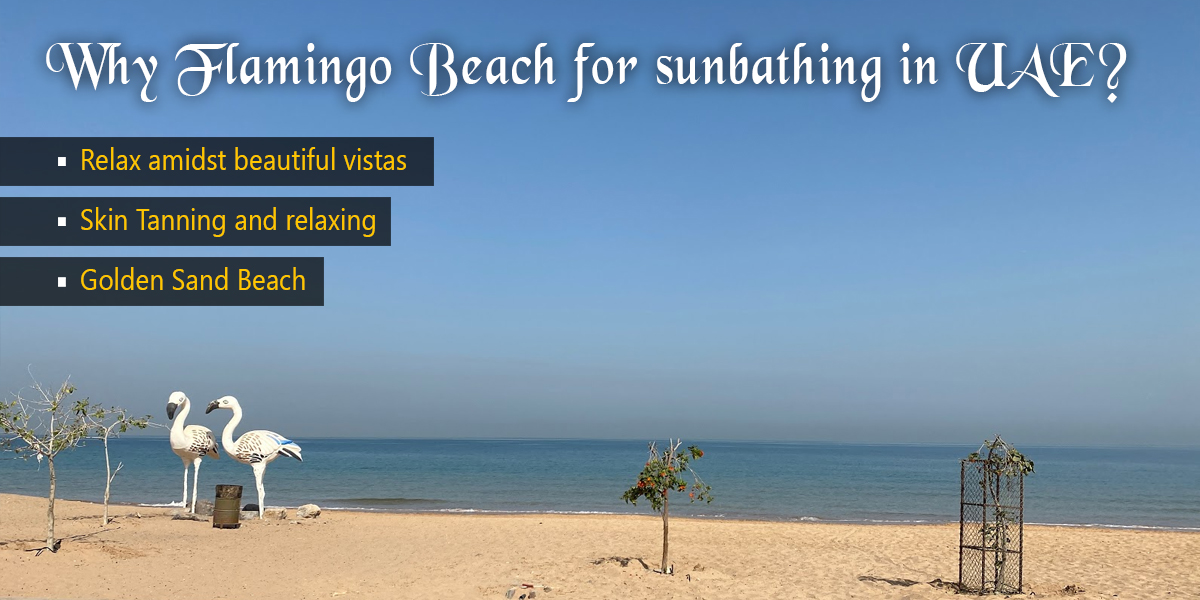 7. Al Zorah Beach in Ajman
At a distance of 18 km from Ajman Bus Station, Al Zorah Beach is a public beach 18 km from the Ajman bus stand, located in the Al Zorah locality of Ajman. It is one of the prime and famous beaches in UAE that lists among the best travel destinations. Al Zorah Beach is a natural beach located in the fifth-largest UAE city, spanning the Persian Gulf. It shores white sand best used for sunbathing in UAE and sand castling.
Al Zorah Beach is an ideal sunbathing beach in UAE, preferred for family picnics.
Visitors can visit the Ajman National Museum, Al Dur Archaeological Site, and Ajman Dhow Building Yard, as these tourist attractions are near Al Zorah Beach.
Al Zorah UAE Beach has the best resorts and hotels that are popular for their hospitality, including customer service. The beach resorts serve global and local delicacies to visitors. Hygienic food and cleanliness are the top priority of all the beach hotels and resorts at Al Zorah Beach in Ajman, UAE.
Visitors flock to Al Zorah Beach for UAE Winter sunbathing, shopping, and to attend the upcoming events in UAE. It is the best skin tanning UAE beach in the Ajman Emirates.
Al Zorah Beach is one of those untouched beach destinations in Ajman, UAE, where you can witness the mesmerizing sea-shore confluence. At every wave splash, mind-oozing sound relays reduce the stress level.