As the first ray of the sun kisses the Arabian shore, thousand of picture-perfect glimpses arise decorating the beach line. Despite a conservative region, Dubai has embraced communal co-existence. You will see people enjoying sunrises and sunsets on the beach lines of Dubai in swimsuits. But not elsewhere. This is why Dubai has become the most sought place for your escapes.
Public beaches are well-kept in this region. Dubai understands the convenience of its visitors and has taken good care of its shores when comes to equipping them with eminent facilities. As Dubai progresses towards new horizons, its attractions are getting finer and funkier. Skateboarding, surfing, some great food, basking in the sun - we give you 'The Best Public Beaches in Dubai'.
Looking for Dubai visa for your next vacation? Reach us for quick & safe online Dubai visa services and much more. Just drop a message at www.instadubaivisa.com and our visa expert will respond to you within no time.
Keeping in mind to ease your hunt for best public beaches in Dubai for your upcoming beach vacation, we have curated a list. No need to thank. Just hit the beach.
1. Jumeriah Public Beach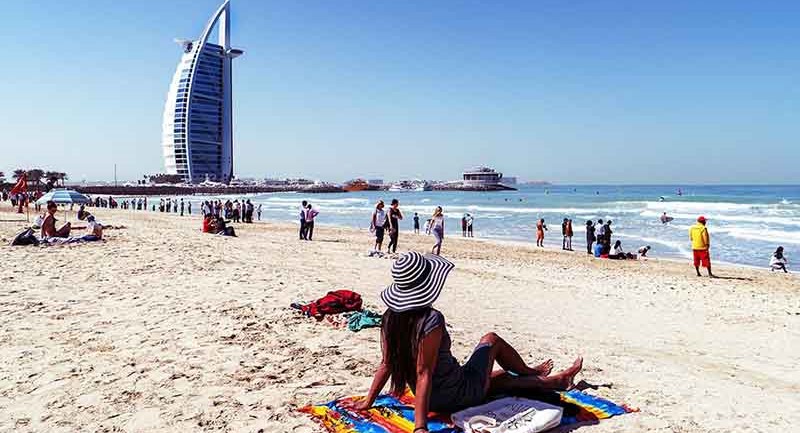 Jumeriah Public Beach is the favourite of locals and visitors. You can enjoy the pristine shore, free of cost. The shore is well facilitated with shower and changing rooms. So, if you are looking for a swim in the Arabian waters, you are well monitored by guards dotted at this beach. You can also find cafes, jogging tracks and other local eateries to indulge in authentic Arabian food. And if this is also not enough, you can spend your time in an adventurous style with skiing and paddle-boarding activities. Residents of Jumeriah can be seen enjoying picnics with their families as it is just a step away.
Timings: Open 24 hours but swimming is permitted only till sunset.
Facilities: Shower, changing rooms, cafes, jogging tracks, lifeguards.
Fee: Free entry
Location: Next to the Umm Suqeim Park, 900 meters northeast of the Sailing Hotel
Also read: How to Ensure A Hassle-free Visa Application?
2. Al Mamzar Beach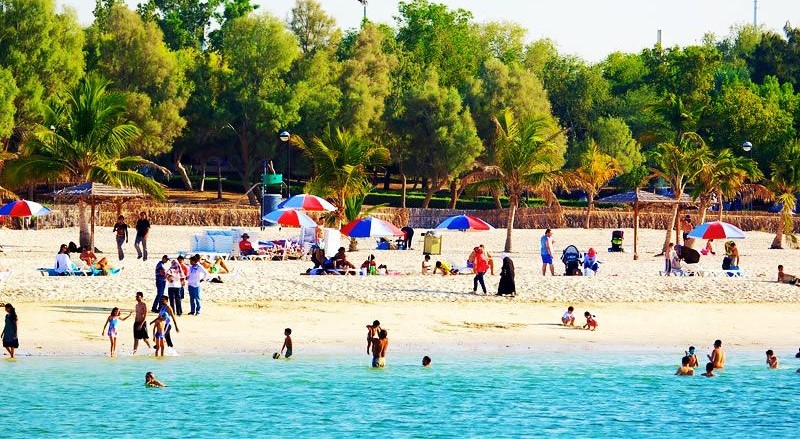 One of the most visited public beaches in Dubai is Al Mamzar Beach. It sits on the Dubai-Sharjah border and is packed with many amenities to lure beach lovers. The shoreline of Al Mamzar Beach spreads across 106 hectares and gives 5 different versions to visitors to explore and enjoy public beaches in Dubai. Picnic areas, children playground, beach coves, lagoons and amphitheatre - all of this is only for Dubai lovers. You can pick your choice from these and soak in the sun on Arabian sands. The entire beach stretch is well guarded by beach guards. You will find locals enjoying picnics, children burning their energies in children's park, people eating on the lagoon side and restaurants are loaded too. It does not stop here Dedicated gym areas, jogging tracks, biking tracks are also well maintained here for visitors and locals.
Timings: Open 24 hours except swimming is permitted only till sunset.
Facilities: Toilets, showers, changing rooms, restaurants, seating areas, benches, jogging tracks, cycling tracks.
Fee: Free entry
Location: North of Al Hamriya Port along the Corniche and Al Mamzar Creek
3. La Mer, Dubai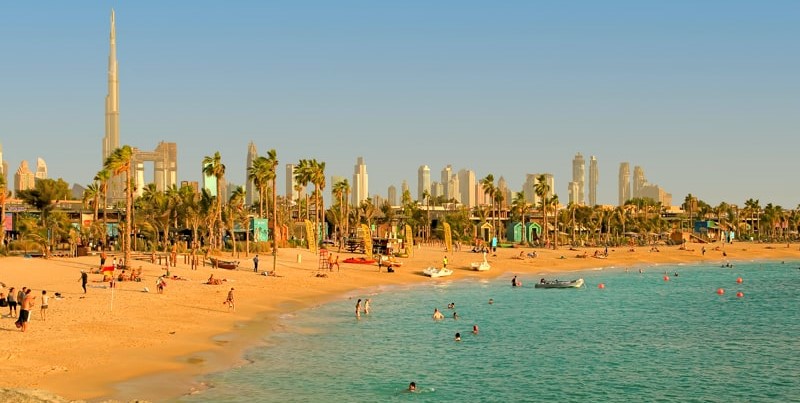 The most Instagrammable beach in Dubai, La Mer is located between Pearl Jumeriah and Jumeriah Bay. This public beach is quite famous amongst art-lovers as La Mer has hosted Dubai Canvas and proudly holds more than 15 art installations on site. There are more than 80 shops, cafes and restaurants to binge on the beachside. You will enjoy inflated rides on the water at Hawa Hawa. Children and adults both love this public beach.
Timings: Open 24 hours, swimming till sunset, Market: 10 am – 10 pm.
Facilities: Toilets, restaurants, cabanas, water sports, bars and cafes.
Fee: Free Entry
Location: Next to the Dubai Marine Beach Club resort and between Pearl Jumeirah and Jumeirah Bay
Also read: Visa Rejections - A common fear amongst Indian travelers
4. Kite Beach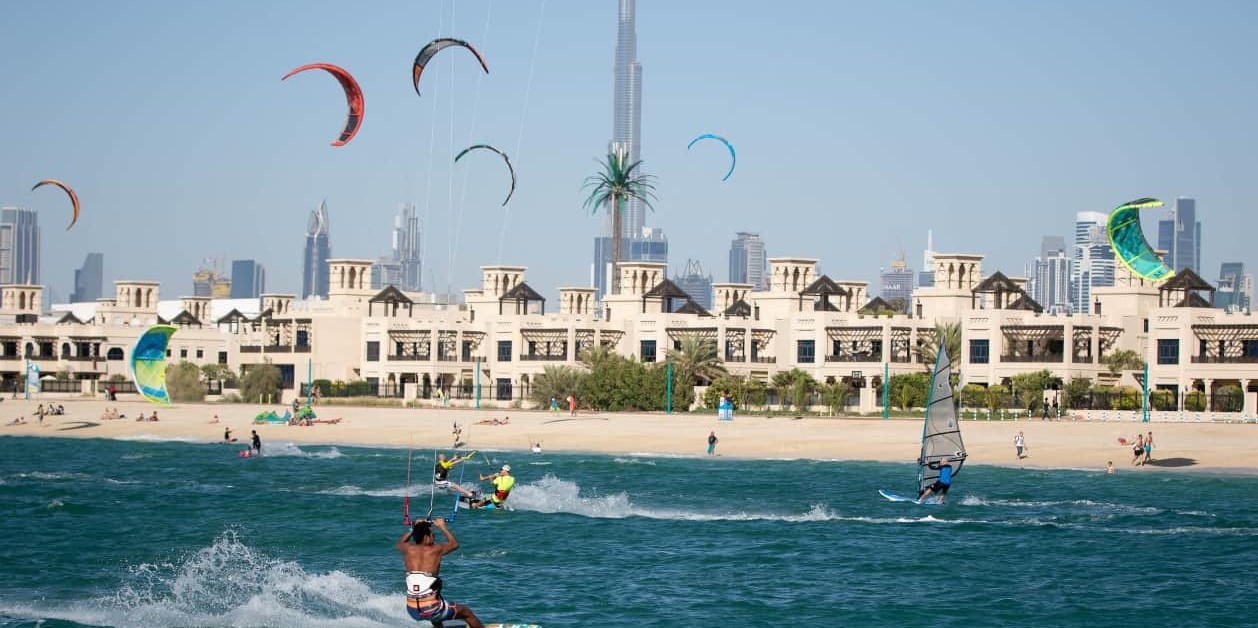 Kitesurfers love this beach. Kite Beach is the most popular public beach in Dubai. Artistic and innovative food trucks are lined up here to spoil your taste bud with scenic beauty. You will find sun-loungers spread on pristine sands here basking in the sun. Fitness freaks love this place for dedicated gym areas, jogging tracks and beach volleyball courts. The only beach library in Dubai is stationed here making Kite Beach stand out of the bunch.
Timings: Open 24 hours except for swimming till sunset.
Facilities: Kite surfing, paddleboarding, volleyball nets, jogging track, beach library, showers, changing rooms.
Fee: Free entry
Location: Umm Suqeim area of Dubai, just south of Jumeirah
5. Sunset Beach, Jumeriah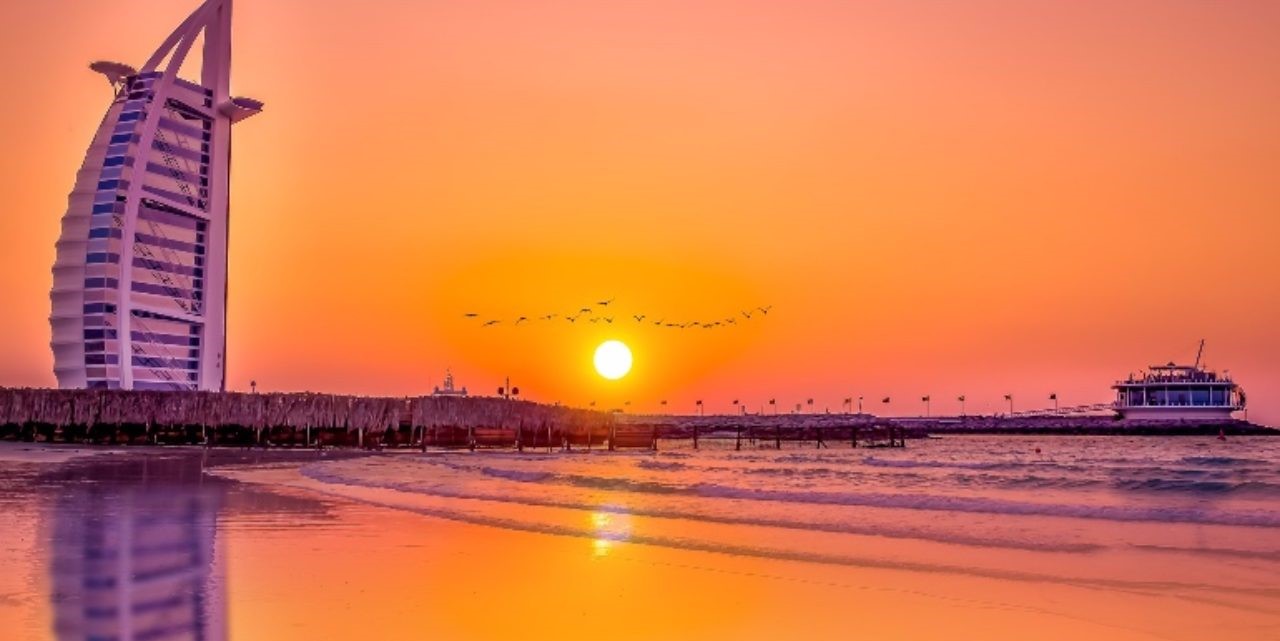 If you are looking for sunset beauty, this is your place. The most picturesque public beach in Dubai is just near Burj Al-Arab. One of the best public access beaches in Dubai, Sunset Beach gives you romantic sunset views with Arabian waters in the background. As compared to other beaches, this place offers more open space to relax and laze on pristine sands. This place also fits best for surfers who have just started. You can also take an evening dip in the sea here.
Timings: Sunrise to sunset
Facilities: Showers, toilets, minimarts, learning surfers.
Fee: Free entry
Location: Next to the Jumeirah beach hotel
Also read: How to Enjoy Your Dubai Visit with Kids?
6. The JBR Beach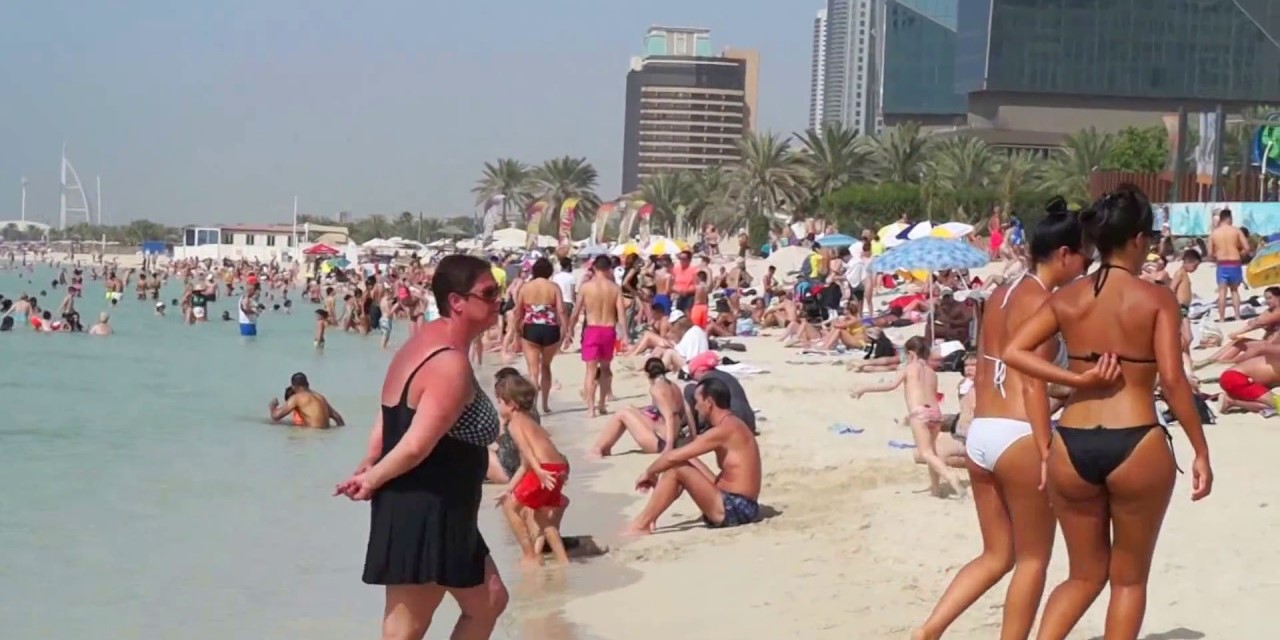 Hit this beach if you want to spoil your family with enjoyment and shopping. JBR Beach is loaded with great food spots and beach activities. You will find boutique style restaurants and market here. Take a camel ride at this stretch and feel the difference of visiting a public beach in Dubai. Residents of JBR love to visit here while they indulge in fitness activities on jogging tracks. You will also find locals enjoying picnics here and children having a good time.
Timings: Sun-Wed: 10 am- 11 pm, Thu-Sat: 10 am to midnight
Facilities: Showers, cabanas, camel rides, juice bars, shopping, loungers.
Fee: Free entry
Location: The coast of the Persian Gulf in Dubai Marina in Dubai
Also read: Avoid These Mistakes which Result in Visa Denials
7. Black Palace Beach, Dubai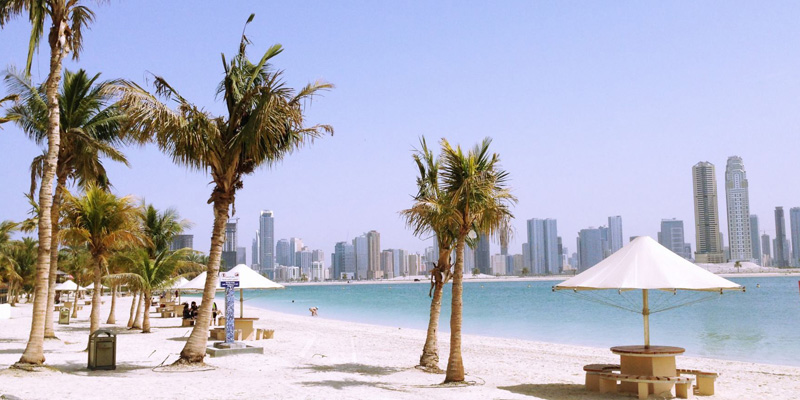 This stunner stands between the gorgeous Madinat Jumeriah and Palm Jumeriah. This minimalistic beach offers more of silent waves and open-air with clean sands that take you to a relaxing journey. This place is especially loved by families as the water does not come close to the roads and this way it is safe for kids to splash around. The evening view here is breathtaking as the sun dips and Burj Al-Arab lights up with Madinat Jumeirah coming to life.
Timings: Open 24 hours except for swimming till sunset
Facilities: Guards
Fee: Free entry
Location: Between the royal palaces facing the Palm Jumeirah
8. Jebel Ali Beach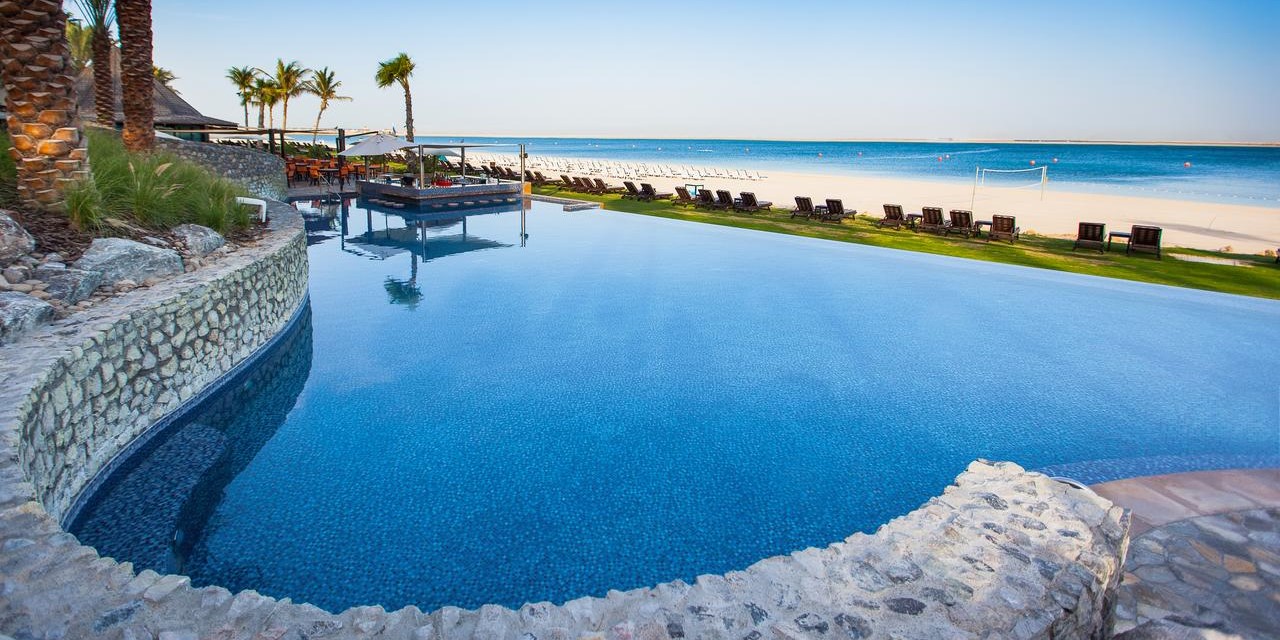 This beach is serene and gets loaded with locals and visitors at the end of the year. You will find locals and visitors enjoying picnics and bar-be-ques. It is an open beach so you cabanas and lounges do not exist here. You will find toilets and changing rooms as families and kids love to make a splash here. The beach line here is well dotted with restaurants and bars.
Timings: Sunrise to sunset
Facilities: Changing rooms and toilets
Fee: Free entry
Also read : 14 Days Dubai Tourist Visa - A Guide to Dubai Visa

9. The Beach Dubai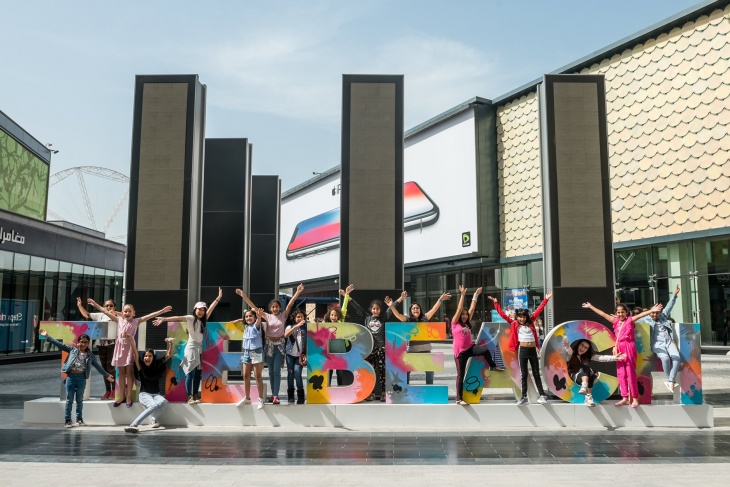 This place is a host to a huge number of outdoor activities, restaurants, fitness facilities. This beach has dedicated play areas for kids, and you can take a camel ride to catch glimpse of the shore from a height. The Beach Dubai is a great place to go shopping and binge on Arabian cuisine. Visitors can enjoy crazy heights at Flying Cup. It is a viewing platform that takes sitting passengers up to a height of 40 metres. You will get one of the most thrilling experiences here. Wifi is complimentary here and kids and adults have their best time at the world's biggest inflatable park.
Timings: Sunrise to sunset
Facilities: Baby changing rooms, wifi, restaurants, bars, guards, services for people of determination, valet parking
Fee: Free entry
Also read: How Do I Apply for Online UAE Visa
10. North Beach, Pearl Jumeriah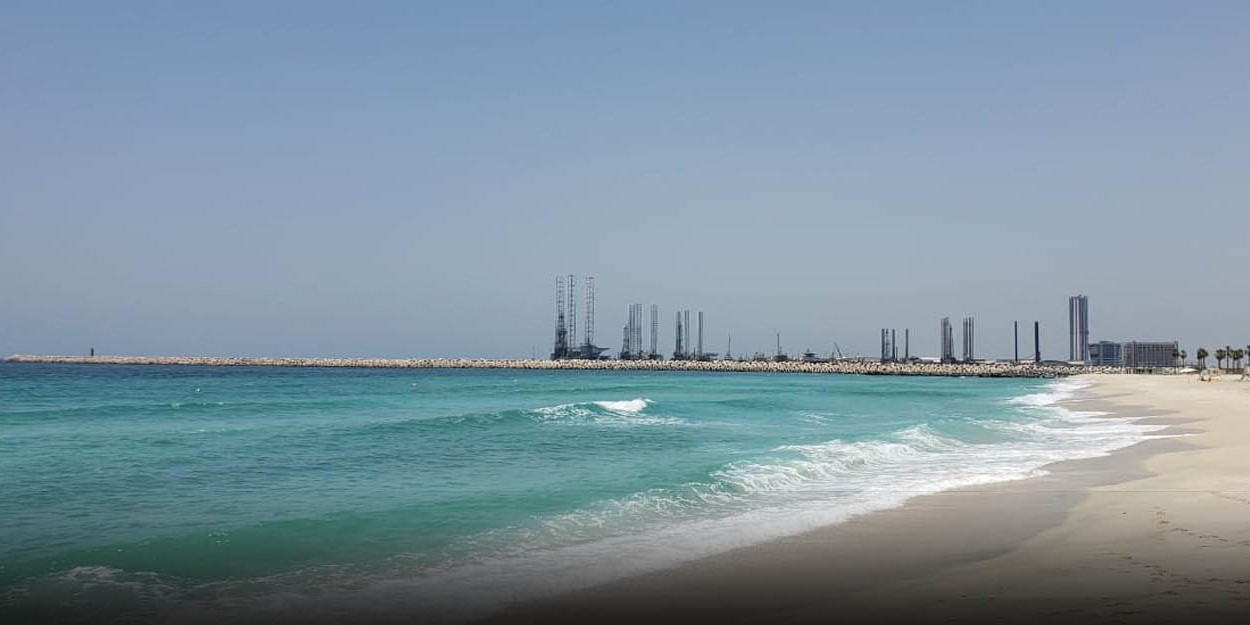 North Beach is a mini man-made island near Port Rashid area. It is located right next to Nikki Beach, the most loved beach club of Dubai. You can enjoy loads of beach activities along the skyline of Dubai. The location of the beach attracts huge numbers of beach lovers. Clear Arabian waters, clean sand and crisp horizon- this lethal combination can be enjoyed only at North Beach.
Timings: Sunrise to sunset
Facilities: Kite surfing, paddleboarding
Fee: Free entry
Location: Near Nikki Beach Resort
While planning your beach vacation, keep in mind that swimwear is only permitted on the beaches. A wrap is a must while you visit the beach and plan to take a dip. You should follow and acknowledge the culture and customs here.
Travel Safe!