Dubai is the most bustling emirate of the United Arab Emirates. It needs no introduction when it comes to hosting grand festivals and events which attract millions of tourists annually. Dubai embraces cultural amalgamation through these festivals and events. These events are fitness, entertainment and culture-centric. Your Dubai vacation shall be fun-filled and action-packed with such an itinerary. The following events and festivals will inspire you to be a part of these celebrations in the middle of a desert.
Dubai is all set to host Dubai Expo 2020 in October. Dubai dares to showcase untamed architecture and engineering at this event, raising its investment and collaboration bars to the unexpected.
1. Dubai World Cup- Horse Race (March)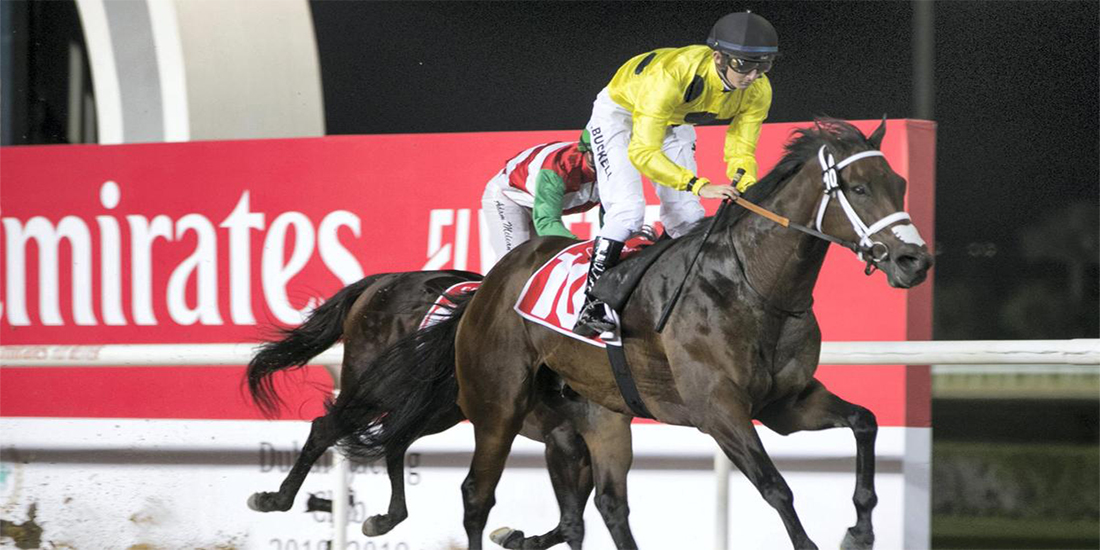 The most stylish World Cup event breathes at Meydan Racecourse, Dubai. The fittest scallops show up and race to the finish. The prize money sizzles at US$ 10 million. The Dubai World Cup horse race is one of the most high profile events loved amongst locals and tourists. Also, charming hats sitting on heads of female visitors compete for a prize.  
2. Dubai Shopping Festival (December)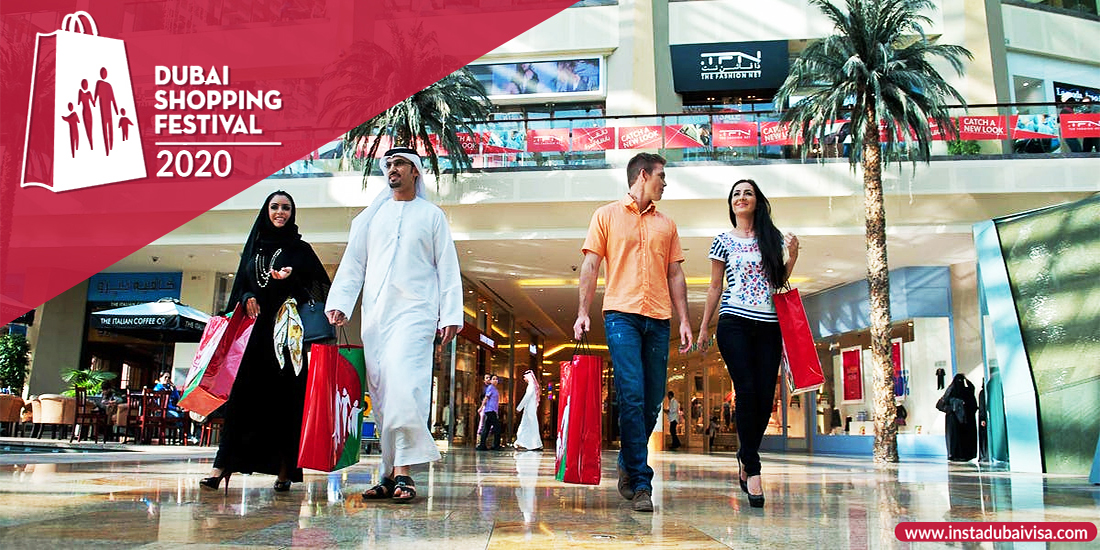 Who doesn't wish to enjoy luxury brands? Dubai Shopping Festival makes this possible with the most comfortable price tags. Huge discounts on world-class brands at multiple locations in Dubai make this event a huge success every year. Engagement activities for families, magnetic prizes, surprising draws, entertainment events and unedited versions of food - all are fully loaded at this event.

Read also: Dubai Shopping Festival 2019 - Shopping, Food, Events & more
3. Dubai Food Festival (February- March)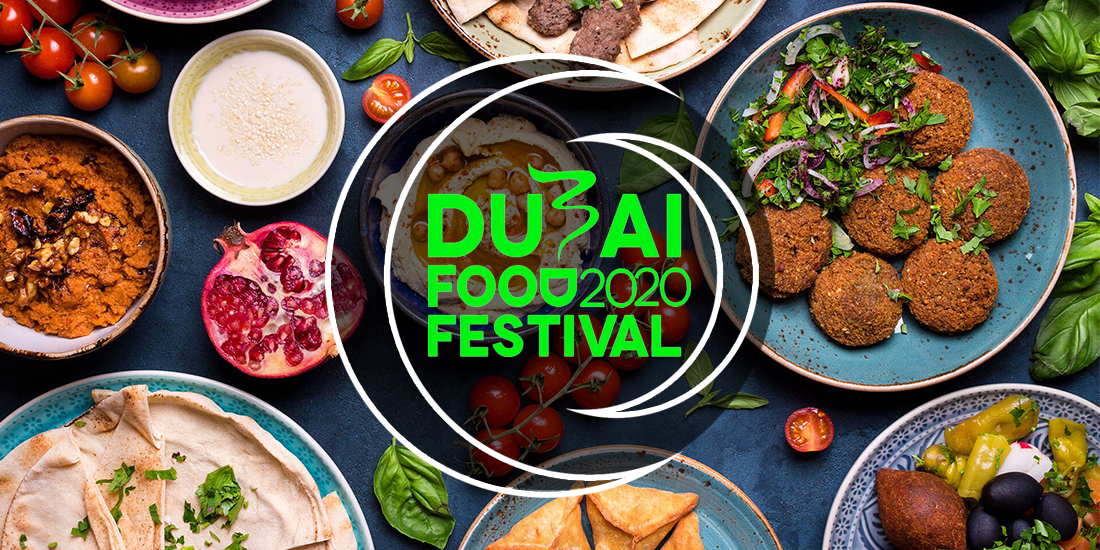 For all those who breathe only and only food - this festival is a foody blessing to you. From chic recipes to street cuisines, Dubai Food Festival proudly serves flavours from around the world.
High-end restaurants exhibit fine skills in cuisines. While the food trucks and street carts buzz with easy-to-go bites. This festival rolls out tasting sessions, masterclasses and perfectly priced 3-course meals to its lovers.

Read also : Food Festival in Dubai 2020
4. The Dubai Marathon (January)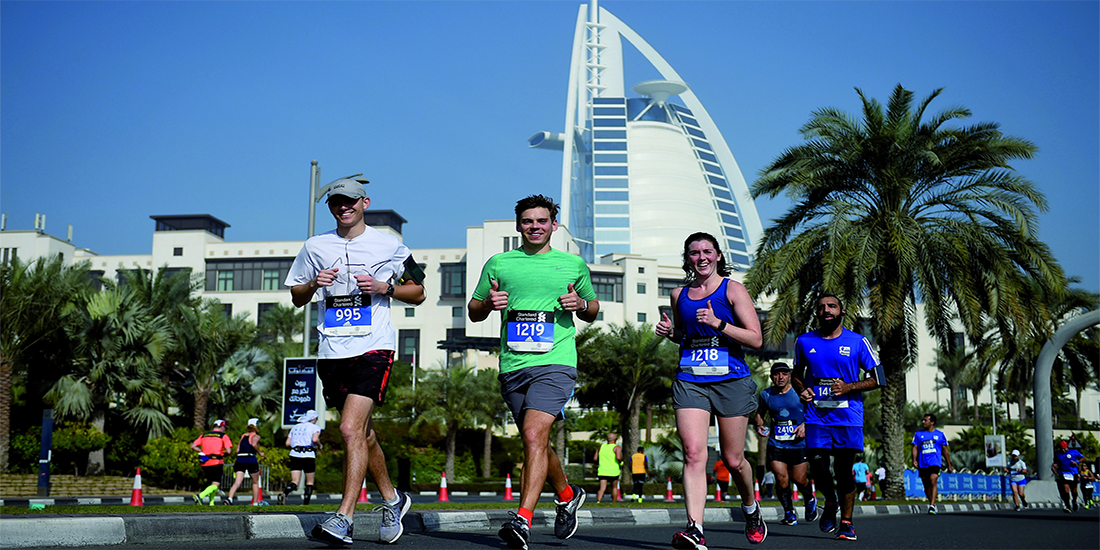 One of the most anticipated annual events that promote stamina and fitness is The Dubai Marathon. Fitness freaks from all over the world run in one of the most expensive marathon. In 2008, it carried a sizzling winner prize at $2,50,000 in both men and women category. Attracting approx. 28,000 participants, this event gets bigger every year.
If you are planning a trip for Dubai, you can apply for Dubai Visa online here.

5. Dubai International Jazz Festival (February)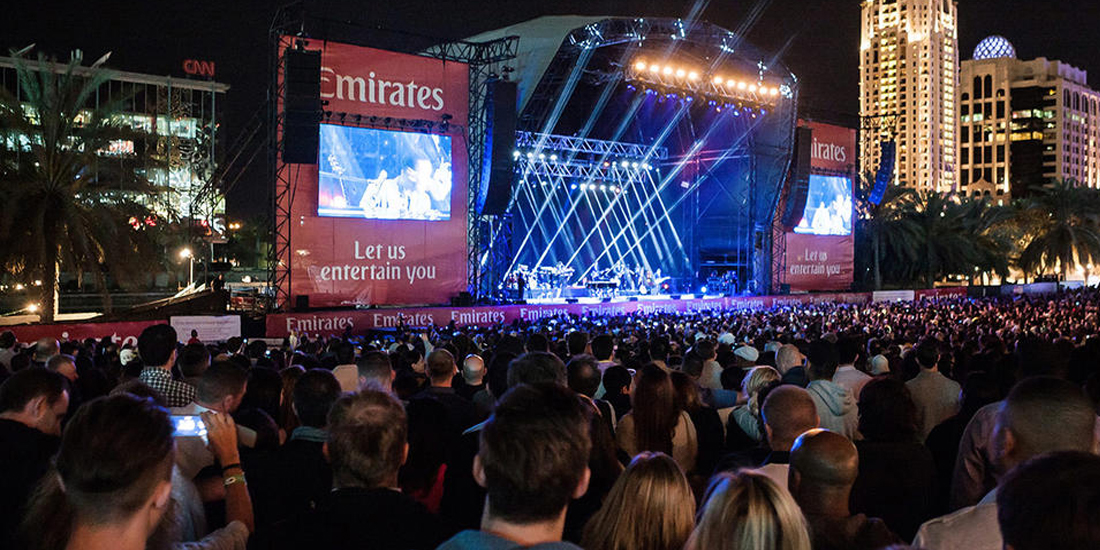 Since its inception in 2003, Dubai International Jazz Festival has attracted more than 4,50,000 visitors from around the world. This event happens to be one of its kind happening in the Middle-East. Dubai Amphitheatre sets on fire with jazz and rock music performed by legends of the music industry across the globe. With warmth and electrifying ambience, this festival marks the most loved music event in the world. Dubai International Jazz Festival has bagged international awards like Best Music Festival Award at Timeout Nightlife Awards in 2010 and 2018. 
6. Dubai New Year's Eve (December)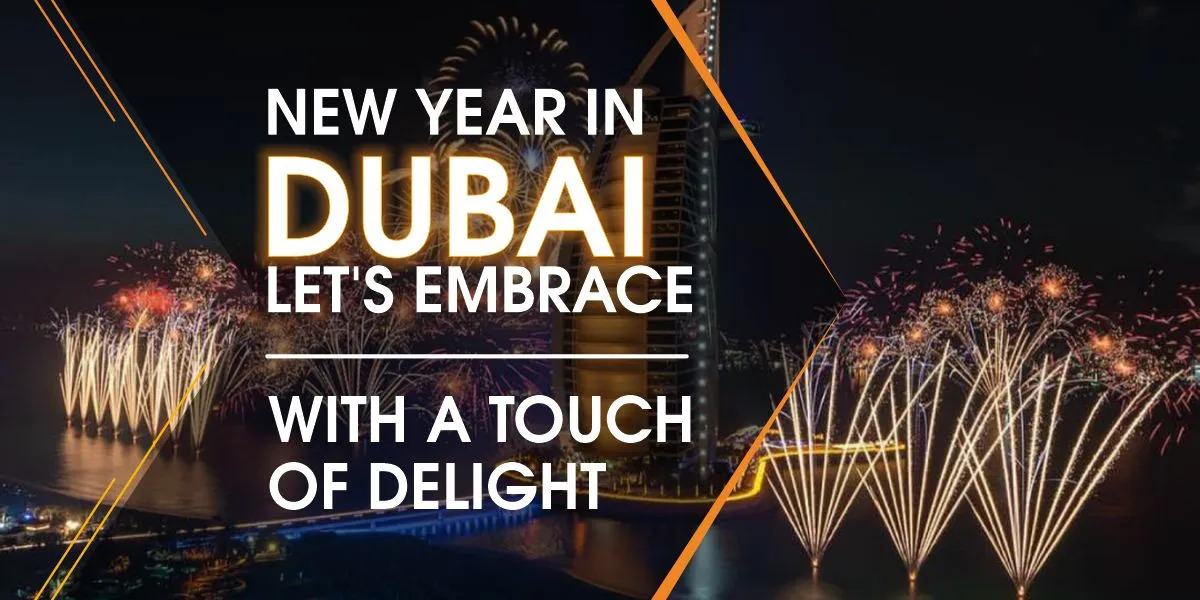 New Year celebrations are the grandest of the grandest in Dubai. It has secured the top position for the choice of place at New Year's eve celebration. Located centrally on the world map, Dubai roars with feasts and festival during this time. Burj Khalifa is undoubtedly the most prominent attraction for fireworks at midnight. Multiple locations in Dubai offer entertainment-packed welcomes to its visitors. This party has no entry fee.   
7. Dubai Desert Classic (January)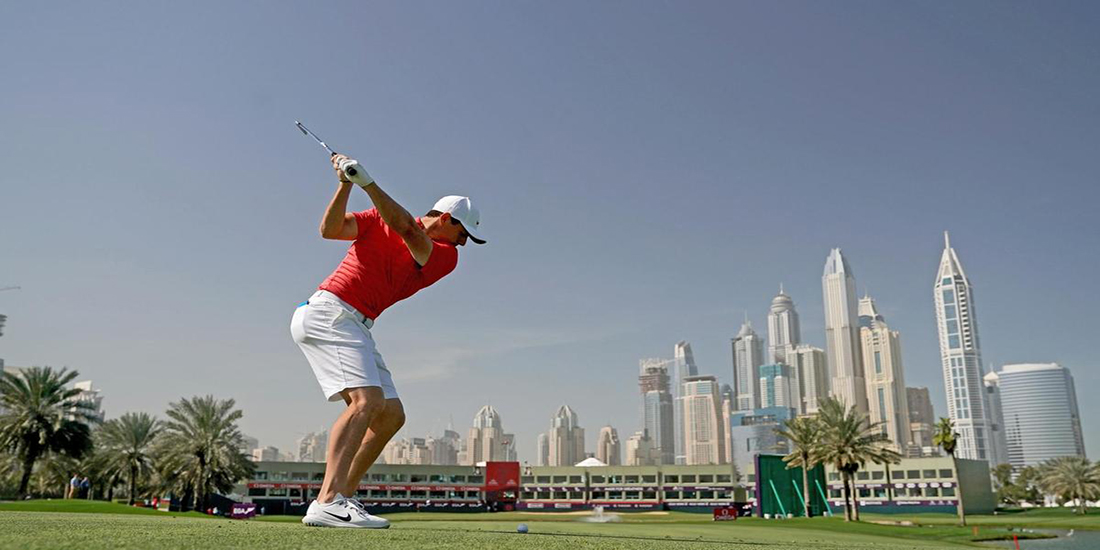 Imagine a huge lush green patch hosting one of the most prestigious sports in the world? Yes, in Dubai it's possible. Golf players from around the world drop here to compete and win fancy prize money. Dubai Golf Club hosts this event every year to attract players and visitors. This professional event has been a part of the European Tour schedule since it opened its eyes.
8. Al Ghaffal Dhow Race (September)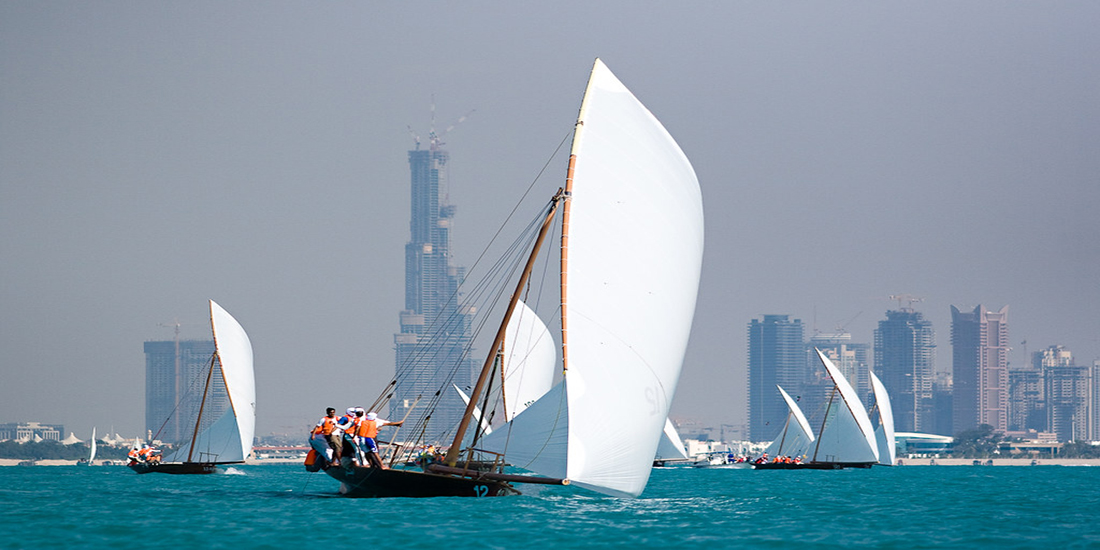 This event holds utmost importance to the local Emirati. They are the ones who participate by sailing the dhow- traditional boat. To celebrate their old traditional pearl diving trade, locals compete by a dhow race. Glorifying the pearl diving activity, being a participant in this event is a matter of pride for the Emirati.
9. Dubai International Motor Show (November)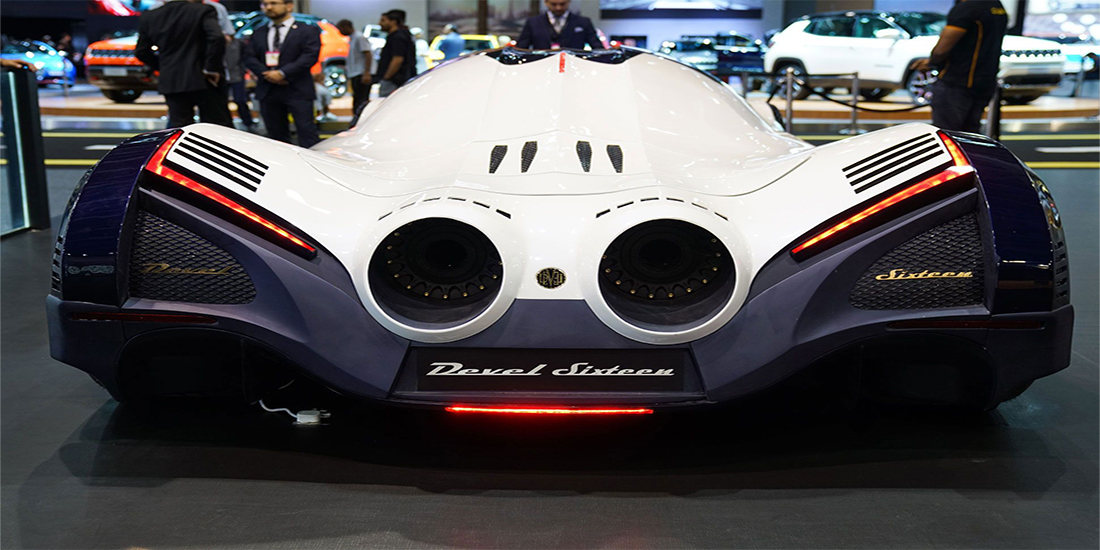 Dubai is a hub for expensive cars. This event attracts high-end car manufactures, supercar manufactures and luxury brands of automobiles. Dubai International Motor Festival offers its visitors an array of motor-related activities and experiences. Perfectly hosted under the patronage of Crown Prince of Dubai, Dubai International Motor Festival is a high spirited event for drivers, dealers, families and fans. This event is a part of the Emirate's strategy to attract tourists from around the world who love to explore the world of motors. This festival is thematic to convert a show into a motor celebration.