Adventures in Dubai - Parasailing and Paragliding In Dubai 
Are you looking for an adventurous escape to Dubai? And this listicle will be of great help to you. Who does not want a relaxing vacation? It is only possible when your itinerary is clear and defined. Awareness of the destination of your choice is a must. And this blog will prove to be a must-have while you trip to Dubai.
Dubai has an epic beachline. Clear white sands, clean beaches, many of them dotted with facilities, loaded with water sports and activities- all of these make Dubai a fantastic destination for parasailing and paragliding.
To enjoy a thrilling holiday in Dubai, you require a Dubai tourist visa. For seamless and reliable online visa services, log on to www.instadubaivisa.com. You can apply for any Dubai visa type and get professional guidance on
Water sports and beach activities have escalated Dubai tourism. Many tour operators in the city arrange parasailing and paragliding sessions to give visitors a thrilling experience on the Dubai beaches. Besides these action-packed activities, tourists also indulge in fly-board and boat tours.
Live the mysterious realms see from the top where the Arabian azures promise you a once-in-a-lifetime experience. To make this a memorable endeavor, we give you vital information on parasailing and paragliding in Dubai.
PARAGLIDING
Sky Safari Emirates
Located in Sharjah, the team provides excellent packages with offers. Visitors can even customise their packages according to their preferences. Do avail a GoPro video making option to keep this as a memory for a lifetime.
Rates with offers:
25 minutes of paragliding at AED 289
25 minutes of paragliding with a video shoot at AED 339
Visitors should make the booking 24 hours in advance.
Timings: Sun-Sat- 2pm -7 pm 
Other Most Popular Dubai/UAE Attractions: 
Museum of the Future | Iconic Mosques of the UAE | The Atlantis, Dubai
PARASAILING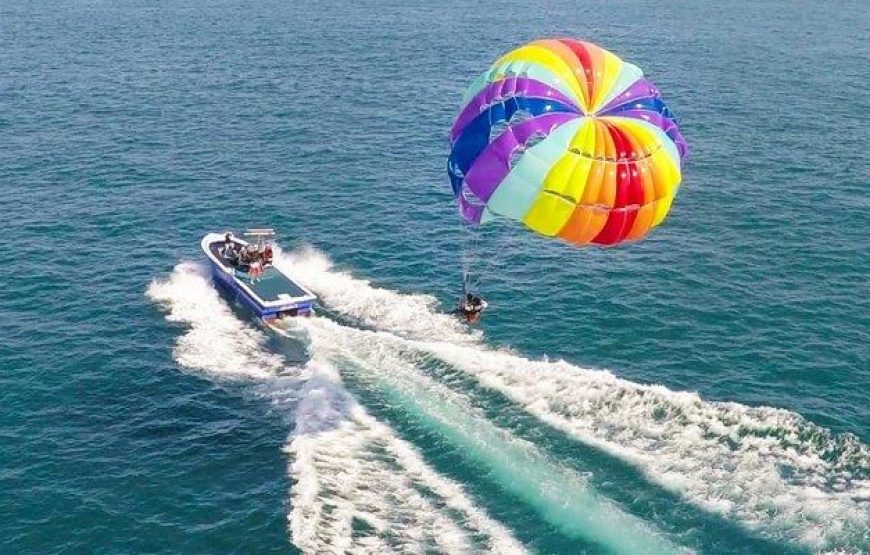 Parasailing and paragliding both are hair-raising and vigorous activities in Dubai. This water sport is not only bliss to watch the Arabian waters and their residents. It is equally fun to see the Dubai structures that spike through the clouds unapologetically. Usually, this is a recreational activity where a few people are behind the boat. One of them is harnessed to the parachute. The person does not have any control over the direction of the parachute tied to the boat. And you enjoy sailing in the sky above the waters as the boat moves.
1. Sea Birds Water Sports Equipment Rental LLC - They provide water sports for groups, families and solo visitors. Sea Birds cover the west Marina in Dubai. Advanced and online booking is recommended to the visitors.
Time: Sun-Sat, 9 am – 5 pm.
Charges: Rs 6000 
2. SeaWake - If you are looking for exclusive services for water sports and beach activities, SeaWak is your pick. You can book for outdoor water activities, beach sports, parasailing for groups and families. One of the most exciting packages is Parasailing off Jumeirah Beach. Your session will be filled with exciting sessions over The Palm and Dubai Marina. We recommend you to book in advance on their online portal.
Duration: 20 min
Charges: Rs 7000
3. Combo package - You also have the option to enjoy both the recreational activities in Dubai with Seawake. Visitors are guided to follow the instruction strictly and are educated on how to use the equipment.
Time duration: 45 min
Charges: 15,500
4. Skyland Tourism - You can enjoy parasailing at Dubai Marina Beach. They even pick and drop you from your accommodation. A minimum of 2 people should book their ride, and your session will be 200 m above sea level.
Time Duration: 15 min
Charges: Rs 8530
5. Parasailing Dubai - This service provider will execute parasailing activity at 500 feet above sea level. You have to reach their pick up point. They will drop you at the same point once the session is over. We advise all travellers to make advance online bookings with Parasailing Dubai.
Pick up and drop point- Al Rahim Mosque, Al Seeba Street, Dubai.
Time Duration: 40 – 50 min
Charges: Rs 5500 
Parasailing Dubai covers three prominent places:
Jumeriah Public Beach Dubai.

Dubai Eye, Blue Water Island, Dubai.

Dubai Marina Yacht Club, Dubai.

 
Also Read: The Top 10 most Instagrammable Spots in Dubai
6. Parasailing Adventure & Boat Tour of Jumeriah Beach in Dubai - is one of the most wanted and exciting service providers. You get a bird's eye view of Atlantis, The Palm, Dubai Eye, Burj Al-Arab, and Dubai Marina. They take you up to 500 feet above sea level.
Pick and drop point: Jumeriah Beach Residence, Beach Walk, Dubai.
Time Duration: 60 min.
Charges: Rs 8000 
All travellers are requested to follow the instructions and obey the eligibility for parasailing and paragliding. Dubai has a lot to offer. So book now and have a happy and safe vacation.
Travel Safe!